Product Description
 Large Conveyor Factory Custom Large Capacity Sawdust Chain Drag 
Product Description
      Drag conveyor (also called drag chain conveyor) is 1 of the commonly used material handing equipment for grain storage silos, it is a light enmasse conveyor which is widely applied for food or grain handling. The drag conveyor is a continuous conveying transportation equipment with a rectangular cross-section connected with the moving chain. Drag chain conveyor is widely used to
transport the particles and powdered material horizontally, it also can be used for transport obliquely and vertically.
The drag conveyor does not produce dust and cause no environmental pollution because of the whole sealing of the closed trough, so it can improve the worker operating conditions and can't cause food scatter when used in the outside. It is also free from weather conditions.Meanwhile, It is capable of executing both single point and multi-point feeding and discharging. In some conditions, it has some prominent advantages for the toxic, explosive, high temperature materials transportation. It can also be applied for flying material transportation to protect working conditions and prevent environment pollution.
Specification
| | | | |
| --- | --- | --- | --- |
| Model | Groove width*height | Capacity(T/H) | Chain speed(M/S) |
| TGSS16 | 160*160 | 15-28 | 0.4-0.6 |
| TGSS20 | 200*200 | 29-56 | 0.4-0.6 |
| TGSS25 | 250*250 | 56-84 | 0.4-0.6 |
| TGSS32 | 320*320 | 85-140 | 0.4-0.6 |
| TGSS40 | 400*400 | 141-211 | 0.4-0.6 |
| TGSS50 | 500*400 | 212-281 | 0.4-0.6 |
Features
* High performance, easy to operate, easy to maintain
* Stable running, low noise and long service life
* Thread rod type takeup (tensioner) can be fitted at the tail so as to meet various conveying requirements
* Flexible for multi-point feeding and discharging
* Equipped with an alarming device for material blockage
* Devices for speed loss and chain breakage protection are optional
Details Images
(1)The machine head is made up with the main body boxdrive sprocketGear box. transmission sprocket.Chain and drags.
(2) The tail is made up with main body boxsprockettensioning device.
(3)The intermediate body is made up with the tube,slide rail,chain & drags,machine cover etc.
(4)The inlet and outlet are made up with the flange and connecting joints used for input or discharge of the grain.
(5) Chain has T and V type,it is the main part of the conveyor for transportation of the grain.
Applications
Drag conveyors are suitable for conveying bulk food, oil, feed and other bulk materials. They are widely used in sea port, dock,grain depot and the malt, flour, brewery, feed and chemical industries for horizontal bulk material conveying.
Product packaging
Company Profile
       Shelley Engineering Co., Ltd. is a company professionally produce and sell grain storage silos. As the main supplier of steel farms and commercial storage bins and silos in China, we offer the most technologically advanced grain dryers in the industry and a large selection of material handling systems, including sweep augers, drying and cleaning systems, commercial bucket elevators and conveyors.
       Our clients come from mainland China, Ukraine, Poland, Australia, Argentina, Sudan, Vietnam, Korea, Thailand, Iran and Honduras. We welcome more and more clients to visit our factory. We research and develop a large number of new products every year. "Quality and reputation is the first" is our policy. We welcome friends from all over the world to cooperate with us for a prosperous future. Please feel free to contact us for further information.
| | |
| --- | --- |
| After-sales Service: | Provided |
| Warranty: | Provided |
| Structure: | Conveyor System |
| Material: | Stainless Steel |
| Material Feature: | Heat Resistant |
| Application: | Grain Transport |
Customization:

Available

|

Customized Request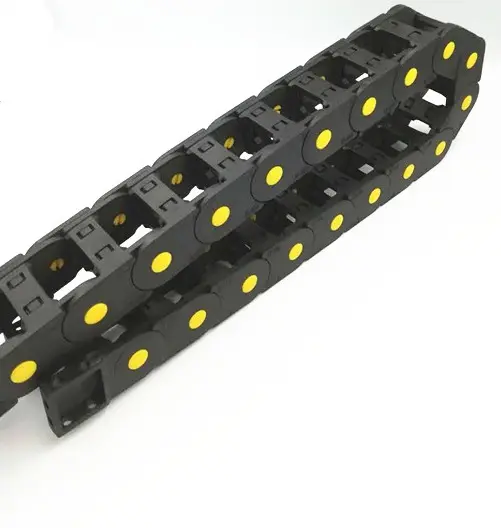 Can drag chains be used in the pharmaceutical and medical device manufacturing industry?
Yes, drag chains can be used in the pharmaceutical and medical device manufacturing industry, and they offer several benefits in this specific application. Here's why:
Cable Protection: In pharmaceutical and medical device manufacturing, there are often numerous cables and hoses that need to be protected and organized. Drag chains provide a reliable and efficient way to route and protect these cables, preventing tangling and potential damage during the manufacturing process.
Cleanliness and Hygiene: Drag chains made from materials like stainless steel or special plastics can meet the industry's stringent cleanliness and hygiene requirements. They are easy to clean and can withstand regular washdowns, ensuring a contamination-free manufacturing environment.
Smooth Movement: Drag chains ensure smooth and consistent movement of cables and hoses, which is crucial in delicate medical device manufacturing processes where precision and accuracy are essential.
Reduced Downtime: By organizing and protecting cables, drag chains help reduce the risk of cable damage and downtime due to cable-related issues. This leads to increased productivity and cost savings in the long run.
Compliance: Drag chains can be designed to meet specific industry standards and regulations, ensuring compliance with safety and quality requirements in pharmaceutical and medical device manufacturing.
Space Efficiency: Drag chains help in neatly organizing cables and hoses in a compact manner, optimizing the use of space in manufacturing equipment and reducing clutter.
Overall, drag chains play a crucial role in maintaining the efficiency, cleanliness, and safety of cable management in pharmaceutical and medical device manufacturing, making them a valuable component in this industry.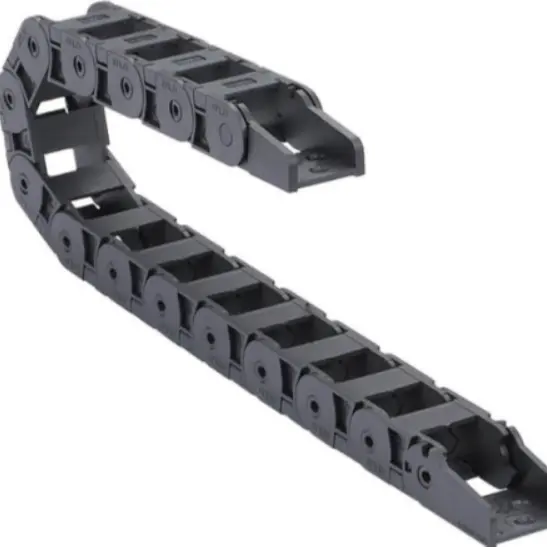 How do drag chains handle cable routing and cable organization?
Drag chains play a crucial role in cable routing and cable organization in various industrial applications. They are designed to efficiently manage and protect cables and hoses, ensuring smooth movement and preventing damage. Here's how drag chains handle cable routing and organization:
Enclosed Cable Routing:
Drag chains provide an enclosed pathway for cables and hoses, keeping them organized and preventing tangling or entanglement. This enclosed design ensures that cables are neatly arranged and protected from external elements, such as dust, debris, and contaminants.
Smooth Cable Movement:
The interior of drag chains is designed to provide smooth movement for the cables and hoses passing through them. This reduces friction and minimizes wear and tear on the cables, prolonging their lifespan and ensuring reliable operation.
Multiple Cable Compartments:
Many drag chains have multiple compartments, allowing for the separation and organization of different types of cables and hoses. This makes it easier to identify and replace specific cables when needed, streamlining maintenance and reducing downtime.
Adaptability to Cable Sizes:
Drag chains can accommodate various cable sizes and types, making them versatile and suitable for a wide range of applications. The chains can be customized to fit specific cable diameters, ensuring a secure and snug fit for each cable passing through.
Protection from Hazards:
Drag chains shield cables and hoses from potential hazards, such as sharp edges, moving machine parts, or exposure to chemicals. This protection prevents damage and ensures the safety of both cables and personnel working near the equipment.
Cable Length Compensation:
As machines and equipment move, the cables and hoses within them need flexibility to adjust to different positions. Drag chains provide the necessary cable length compensation, allowing the cables to extend and retract smoothly without becoming tangled or causing strain.
Preventing Cable Clutter:
By keeping cables and hoses organized within the drag chain, cable clutter is minimized. This not only improves the overall aesthetics of the equipment but also makes it easier to identify and troubleshoot any cable-related issues.
Overall, drag chains are essential components in industrial cable management systems. They streamline cable routing, protect cables from damage, and ensure smooth movement, contributing to the efficient and reliable operation of machinery and equipment in various industries.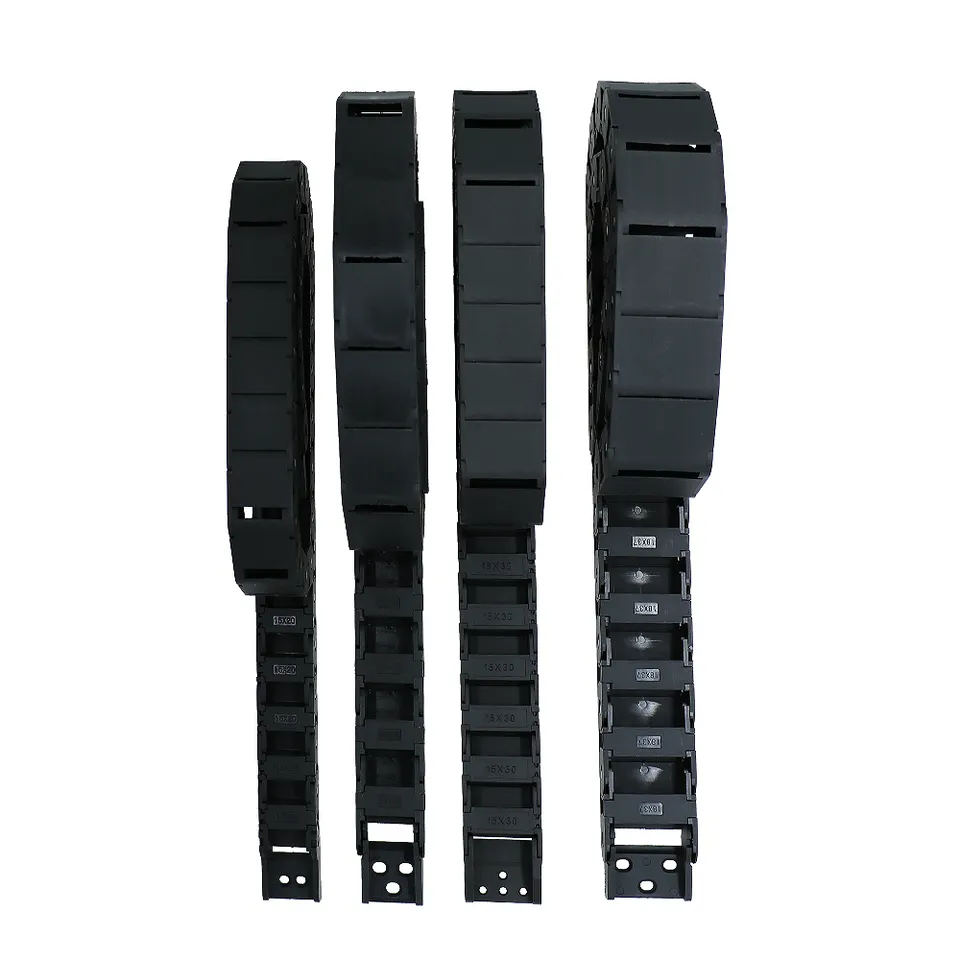 What are the benefits of using a drag chain in industrial applications?
A drag chain, also known as a cable carrier or cable chain, offers several advantages when used in industrial applications. These benefits include:
1. Cable Protection: One of the primary benefits of using a drag chain is the protection it provides to cables and hoses. The chain encloses and shields the cables from external elements such as dust, debris, moisture, and mechanical damage. This ensures the longevity and reliability of cables, reducing the risk of downtime due to cable failure.
2. Flexibility: Drag chains are highly flexible and allow for multi-axis movement. They can bend and twist in different directions, accommodating complex motion and providing a full range of motion for cables. This flexibility is especially beneficial in applications with moving parts or robotic systems.
3. Space Optimization: By organizing and guiding cables within the drag chain, it helps optimize space and prevents cable clutter. This is particularly advantageous in tight spaces or areas with limited cable routing options, enabling efficient use of available space.
4. Reduced Wear and Tear: The smooth movement of cables within the drag chain reduces friction and wear, extending the lifespan of the cables. It prevents cables from rubbing against sharp edges or other components, mitigating the risk of abrasion and damage.
5. Improved Safety: Drag chains enhance workplace safety by eliminating loose cables and potential tripping hazards. By keeping cables organized and secure, they reduce the risk of accidents and injuries caused by tangled or exposed cables.
6. Increased Reliability: With proper cable management, the risk of cable failure due to bending, twisting, or pulling is minimized. This leads to increased reliability and uptime of machinery and equipment, improving overall productivity.
7. Resistance to Harsh Environments: Drag chains are often made from materials that offer resistance to harsh environments, such as high temperatures, chemicals, and outdoor elements. This makes them suitable for a wide range of industrial applications, including those in rugged and demanding conditions.
8. Easy Installation and Maintenance: Drag chains are designed for easy installation and maintenance. They can be opened easily for adding or removing cables, simplifying the process of cable updates or replacements.
Overall, the use of drag chains in industrial applications ensures efficient cable management, protects cables from damage, and contributes to the safe and reliable operation of machinery and equipment.



editor by CX 2023-09-05
Relevant Industries: Manufacturing Plant
Showroom Spot: None
Situation: New
Material: stainless metal, stainless metal. Carbon metal.
Framework: Hinged belt chip conveyor
Electricity: .75 KW
Warranty: 2 years
Width or Diameter: OEM
Machinery Take a look at Report: Provided
Video outgoing-inspection: Supplied
Advertising Type: Regular Solution
Guarantee of core factors: 2 several years
Core Components: steel
Bodyweight (KG): 50 kg
Solution: hinge conveyor belt
Pitch 1: 31.75mm, 38.1mm, 50.8mm, sixty three.5mm, 76.2mm, one hundred and one.6mm
Belt Width: 100mm — 500mm
Surface area: Flat, Bumps, Holes, Pits
Barrier Plate Shape: -shape, S form, W form
Operate: Areas for Hinged belt Conveyor
Software: transportation
Dimension(L*W*H): Custom-made Measurement
Customization: yes
Packaging Details: cartons/wooden situation/pallet
Manufacturing facility Provide CNC Chip Conveyor Chain A variety of Pitch Metal Plate Hinged Conveyor Chain Hinge conveyor belt Ruiao focus in both standard and custom-made manufacturing facility hinge conveyor chain. We provide useful system patterns and performance certain options. We can tailor a metal chip processing conveyor or method to any end-person need.Hinge conveyor belt is divided into a range of chip elimination equipment, the width can be produced according to person requirements.(1)our chain plate conveyor belt offers complete answers to mechanical managing difficulties.(2)substance:stainless metal 304 or 201, carbon steel Q235.(3)application:largely utilized in excluding scraps in all kinds of system and coal mine,metallurgy products.thanks for your interest, we have our personal manufacturing unit . i believe our price is the most affordable on its CZPT perform. Particulars Technological parameters
| | |
| --- | --- |
| Pitch (mm) | Application of hinged conveyor chain |
| 31.seventy five | Small host and short distance transportation |
| 38.1 | Small and medium short delivery |
| 50.8 | Large and medium-sized host and transmitted above a prolonged length |
| 63.five | Large and medium-sized host and transmitted in excess of a long length |
| 76.two | Large and medium-sized host and transmitted above a lengthy distance |
| 101.six | Large and medium-sized host and transmitted over a extended length |
Details of chain plate conveyor belt Application Packing&delivery Exhibitions FAQ Q: Are you a manufacturing facility?A: yes, we are. and we have twenty five several years creation experience and in excess of ten several years export encounter. you can get our very good good quality hinge conveyor belt and service and competitive price.Q: How prolonged is your shipping time?A: Generally it is 5-ten days if the items are in inventory. or it is 15-twenty days if the goods are not in inventory, it is according to amount.Q: Do you offer samples ? is it free or additional ?A: Indeed, we could provide the sample of hinge conveyor belt for free of charge charge but do not pay out the value of freight.Q: What is your phrases of payment ?A: Payment=1000USD, 30% T/T in advance ,stability before shippment.
Three important aspects of the drive chain
One of the advantages of a drive chain is that it is relatively light. It sends nearly all of the engine's power to the rear wheels, even if it loses some power along the way. Engine power on a dyno is different than on the road. Therefore, the chain is the most efficient way to transmit power to the rear wheel. Let's look at three important aspects of the drive chain. Here are some facts about them.
roller chain drive
When choosing a roller chain drive, consider your application and how much horsepower your system requires. For applications requiring more horsepower, a multi-strand drive is an option. If your horsepower is limited, single-strand drives are a good choice. Otherwise, you may need to choose the smallest pitch chain. However, this may not always be possible. You should also consider sprocket size. In many cases, choosing a smaller chain pitch can increase the number of options.
While proper lubrication and maintenance can last a roller chain drive for years, regular inspections are essential to prolonging its life. After the drive has been operating for 100 hours, a thorough inspection every 500 hours is recommended. During this inspection, look for key elements such as 3% elongation and chain wear. If the chain is not preloaded, elongation will happen very quickly. In either case, the industry-recommended 3% elongation will be achieved faster.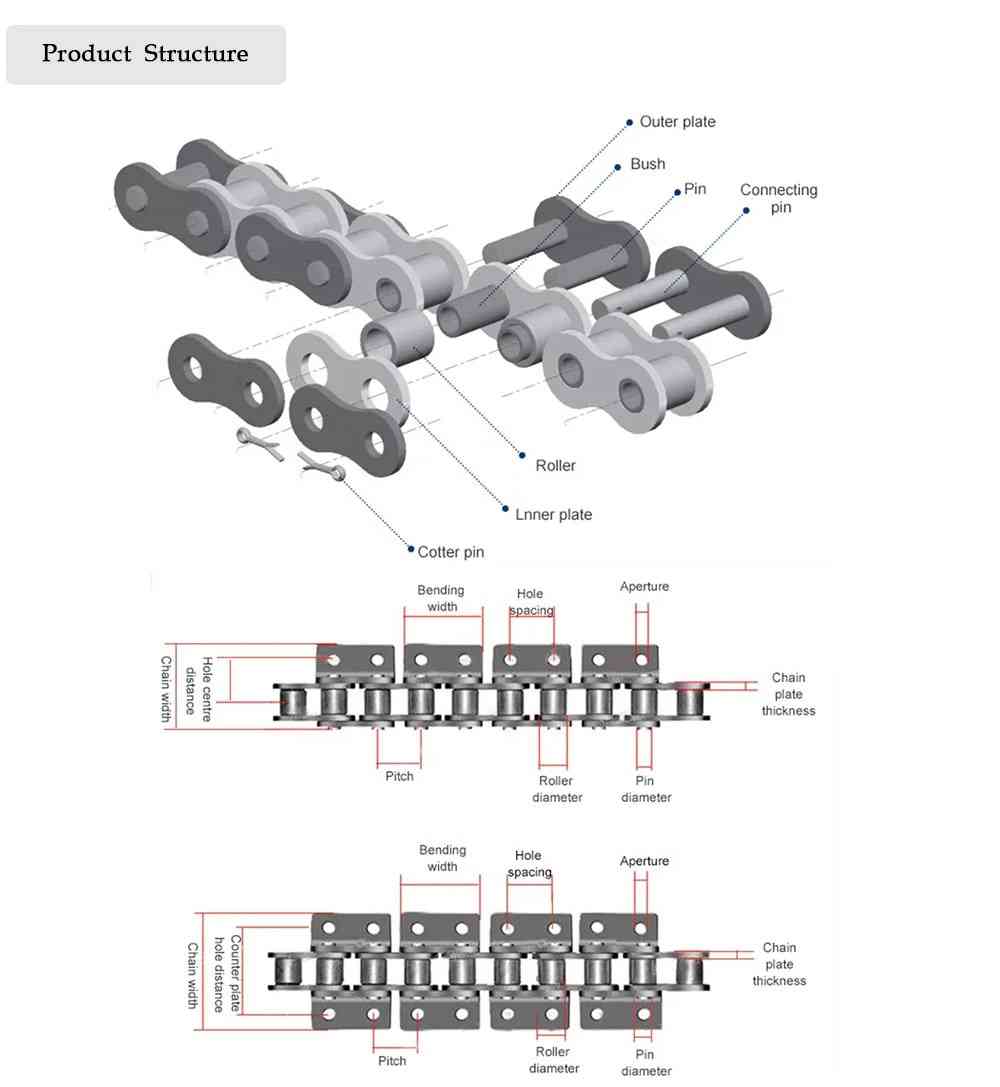 flat top chain
The flat-top chain system consists of hinge pins that support the chain to ensure efficient conveying. There are different types of hinge pins available, namely single and double. The single hinge pin is suitable for short chainplates and lightly loaded products. Dual hinge pins provide increased stability and load capacity. Flat top drive chains can be used in many different industries. In this article, we will learn about some important properties of flat-top chains.
Plastic flat top chains can transport medium to large workpiece pallets. They have a circular arc function that enables continuous drive combinations involving curved circular arcs. Plastic flat top chains are also recommended for workpiece pallets with PA wear pads. Steel flat-top chains can withstand surface loads up to 1.5 kg/cm, and HD profiles are suitable for steel chains. This chain is used in a variety of applications, including packaging machines.
mute chain
There are several types of mufflers that can silence your drive chain. One is the Ramsay silent chain, also known as the inverted tooth chain. These chains can be custom designed for specific needs. Exclusive Australian distributor of CZPT products that can help you find the most effective and affordable silent chain. In addition to silent chains, CZPT also manufactures sprockets and other hardware required for the drive.
Another type of mute chain is the CZPT chain. CZPT chains have involute teeth, while the ANSI standard specifies straight teeth. The advantage of silent chains is reduced noise and vibration output, and wider chains are more economical than multi-strand roller chains. The downside of silent chains is that they wear out quickly without lubrication.
The mute chain consists of two main parts, the pin and the plate. The pins are rotated in the same direction and positioned so that they can only engage the sprocket from one direction. Therefore, mute links are not recommended for reverse applications. To find out if your chain will work in reverse, consult the manufacturer's catalog. CZPT chain.
conveyor chain
Drive chains and conveyor chains are essentially the same, but they are very different. The transmission chain is mainly used to transport heavy objects, and the conveyor chain is used to transport light objects. On the other hand, drive chains are usually driven by belts. Both types of chains can be used for the same purpose. This article will cover both types of chains. You can use them to convey various types of materials and products.
There are some differences between belts and chains, but both types can perform similar functions. The drive chain is used to drive the rollers, while the belt is used to move the object horizontally. The drive chain usually drives the rollers that move the conveyor belt. For a wide range of applications, conveyors and drive chains can be customized to meet specific needs. Here are some common uses of these two chains: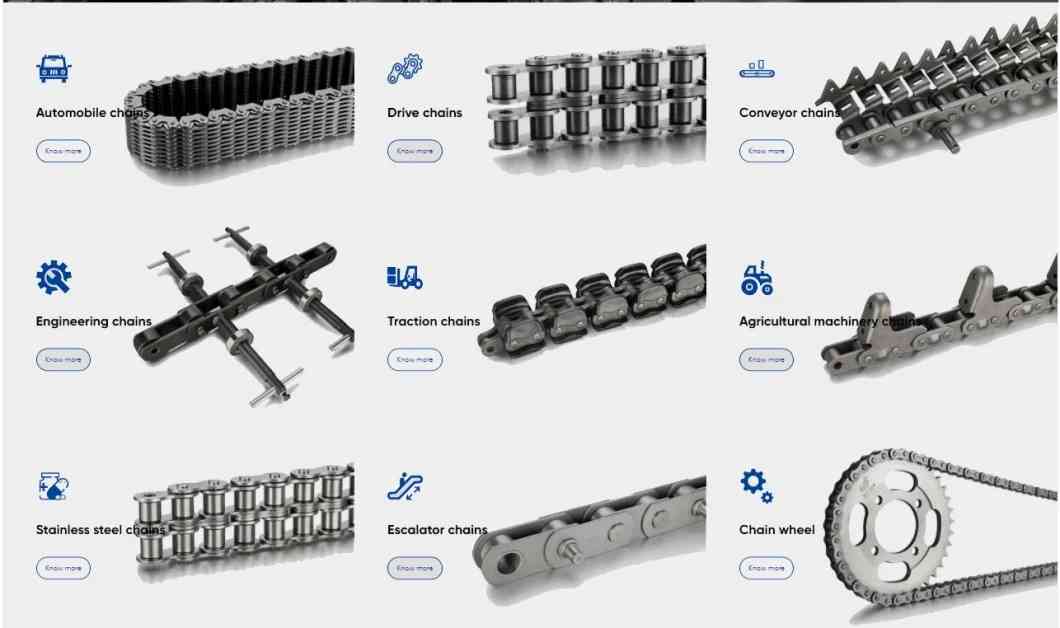 time chain
Timing chains fail for two reasons: complete damage and fatigue. Fatigue occurs when a timing chain reaches its breaking strength, and eventually, failure occurs when a timing chain exceeds its design life and suffers mechanical damage. Most timing chain failures are a combination of mechanical failure and fatigue. Chain chatter, engine misfires, and VVT systems can accelerate chain fatigue. If these causes of premature timing chain failure are not addressed, the timing chain could be permanently damaged.
In the past, the timing chain was the only drive chain available. Timing belts are a quieter alternative, but they are prone to failure and damage to valves and the engine. In recent years, OEM manufacturers have begun to return to the OHC/DOHC drive chain of the timing chain. This type of drive chain has many advantages, including the ability to simulate knock sensor vibrations. Additionally, the chain has better NVH performance, making it the drive chain of choice for automakers.
Timing Chains in Internal Combustion Engines
Internal combustion engines use timing chains to control intake and exhaust valves. The chain turns the camshaft at the right time and coordinates the movement of the valves on the cylinder head. This in turn allows the engine to generate power. The timing chain also controls the position of the intake and exhaust valves, ensuring that fuel and exhaust gases are expelled at the correct time. Incorrect timing in the vehicle can lead to misfires and other problems.
Chain drives in internal combustion engines are a common feature of many modern cars. It transmits rotational force from the crankshaft to the camshaft, which in turn controls the opening and closing of valves. The chain is lubricated with oil to prevent wear. Therefore, timing chains are often used in high-capacity engines, including trucks and motorcycles. But they do have some drawbacks.
A weakened timing chain can cause the engine to misfire, causing it to skip gears and lose coordination. A clicking sound may also indicate a problem. If the chain is too loose, it can also cause the engine to stall. If the chain is too loose, metal chips will appear in the oil. A clicking sound may also be heard when the engine is running. If you hear the engine stalling, it's likely that the timing chain is the culprit.
Silent chains in internal combustion engines
The pitch difference between the drive sprocket and the silent chain reduces resonance sound, meshing shock, and accelerated wear at the chain and sprocket interface. The difference in pitch between the drive sprocket and the silent chain determines the loudness of the sound, and the system described here helps reduce it. The present invention is suitable for power transmission in internal combustion engines.
The earliest designs for silent chains come from the 1500s when Leonardo da Vinci sketched them. The SS Britannia propels the boat across the Atlantic using huge silent chains. By the mid-19th century, silent chains were used in nearly all types of industrial applications and as timing chains for early automobile engines. Due to their durability, these chains are durable and have smooth action.
In order to understand the mechanism of frictional losses in chains, various parameters must be considered. Speed, pitch, temperature and tension are the main parameters affecting friction loss. This test uses two types of chains to compare the frictional behavior between these two components. The results show that a single chain with a high pitch can increase the friction torque of another chain with the same pitch. These results provide an important basis for understanding the role of friction torque in internal combustion engines.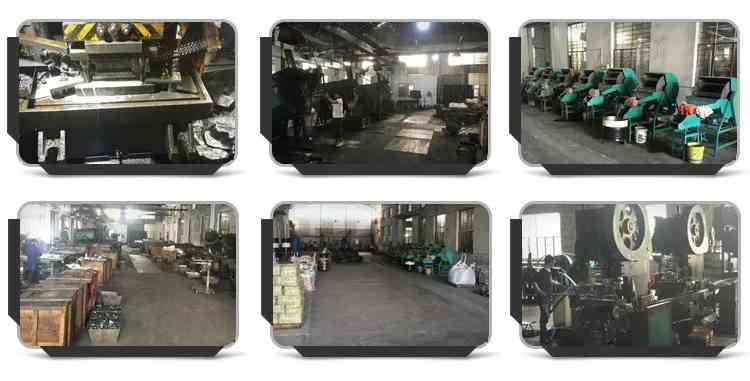 lifting chain
Lift chairs are designed to lift heavy objects and can be used with a variety of lifting equipment, including forklifts and cranes. Hoist chains are also used in warehouses and ports of all sizes and consist of a series of pins and plates that mesh with each other to move heavy loads. ​​​CZPT Chain manufactures high-precision lifting chains. Here are some of the benefits of hoist chains for drive chains.
Blade Chain: This type of drive chain has a patented U-profile that turns the flexible chain into a highly stable outer post during the push phase. This design is designed to minimize linkage tangling and provide better pressure transfer. These chains are used for cranes, anchors and straddle carriers. Blade chains are more durable than other types of drive chains and are especially useful in heavy duty applications.
The drive chain is also available in a variety of materials. For example, square link chains are commonly used in cranes and hoists. They are cheap to manufacture but more prone to overloading. Conveyor chains are specially designed for chain conveyor systems. It consists of a series of interconnected rectangular links. Oval links tend to kink and are usually only used at low speeds.



editor by czh