Product Description
Replacement Original CHINAMFG 923941.5714 Cable Track Cable Drag Chain for Container Equipment Reach Stacker Spare Parts,
With good price and original.
Item Specifics
Part Name: Cable Track,Cable Drag Chain
Part No: 923941.5714
Compatable with: Kalmar
Market Type: Original
Kalmar Lgus Container Handler Spare Parts 923941.5714 Cable Track Cable Drag Chain
Container Reach Stacker Parts
Power System
Engine Transmission Assembly, Turbine Shaft, Hub Assembly, Transmission Plate Assembly, Pump Transmission Assembly, Front Wheel Drive, Transmission Gear Set, Clutch Shaft Assembly, Electric Control Valve Assembly, Handling Cover Assembly, Pressure Regulating Valve, Chongye Pump, Control Valve box cover assembly, electronic control valve assembly, double filter, fuel assembly, cooling assembly, intake assembly, air filter, intake pipe bracket, exhaust assembly, muffler
Frame Assembly
Fixed weight system, fender, cover, rearview mirror assembly, wind deflector assembly, cover assembly
Front window wiper assembly, rear window wiper assembly
double pedal
Air Conditioning System
Boom Assembly
Pitching cylinder, lower slider assembly, upper slider assembly, damping cylinder, telescopic cylinder assembly
Spreader Body
Right telescopic beam assembly, twist lock mechanism, ejector rod device, twist lock device, push rod assembly, slider seat assembly, lubricating oil pipeline assembly, reducer, main beam assembly, telescopic cylinder, hydraulic system, one-way Valve, Rotary Valve, Solenoid Reversing Valve, Telescopic Lock Valve Group
HangZhou CHINAMFG Technology Equipment Co., Ltd is a high-tech enterprise that integrates scientific research, design, production and sales. The company has strong technical force, advanced production technology, complete facilities, and has several senior technical engineers, constantly introducing more high-tech products suitable for market needs, which have good functional effect, and great market competitiveness.
In the process of development, the company continuously exchanges and cooperates with many domestic scientific research institutions. The ability to design, produce, maintain, debug and transform projects has rapidly increased, and the scale has continued to expand.
The company's aim is to provide customers with quality and cheap products, and provide considerate service. In order to meet different needs, we supply high-quality products for the industrial-grade market and provides regular-quality products for professional-level markets and users. As a professional manufacturer, we independently researches and develops a variety of professional production equipments that are suitable for the characteristics of its products. At the same time, we can also customize them according to your requirements.
We supply CHINAMFG / Konecranes / CHINAMFG / Fantuzzi / CVS port machinery empty container reach stacker spare parts.
If you need these,please contact us.
| | |
| --- | --- |
| Type: | Cable Track |
| Application: | Hoisting Machinery |
| Part Name 6: | Acoumalator(to Be Full) |
| Part Name 5: | Idler Gear |
| Part Name 8: | Gear |
| Part Name 9: | Gasket |
Customization:

Available

|

Customized Request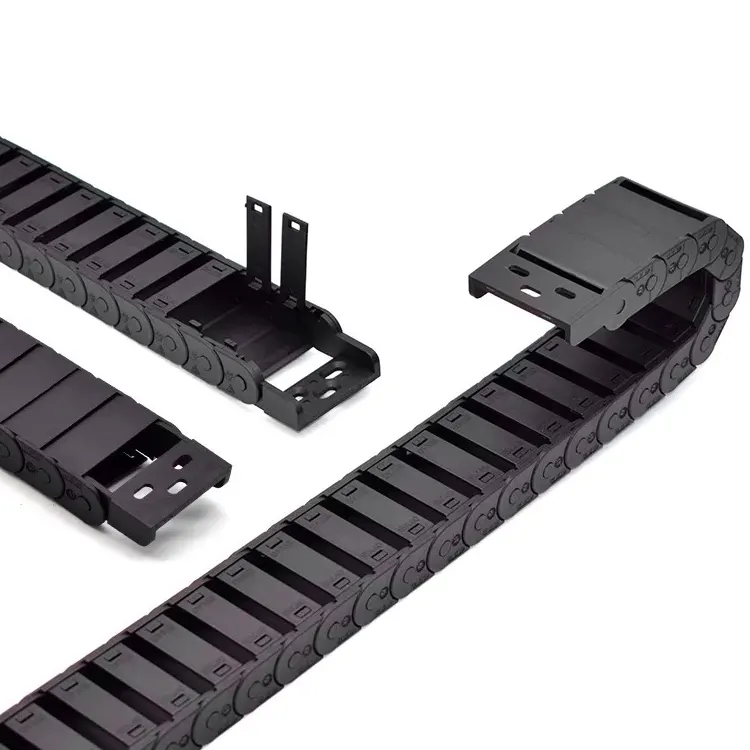 Can drag chains be used in the packaging and bottling industry?
Yes, drag chains can be used in the packaging and bottling industry, and they offer several advantages that make them a suitable choice for this application:
Cable Protection: In the packaging and bottling industry, there are various electrical cables, pneumatic hoses, and fluid lines that need to be protected from damage. Drag chains provide a secure housing that prevents these vital components from being exposed to potential hazards, such as moving machinery or sharp edges.
Reduced Downtime: Packaging and bottling operations often involve high-speed and continuous movement of machinery. Drag chains keep cables organized and prevent tangling, reducing the risk of cable damage and minimizing downtime caused by cable-related issues.
Flexible Cable Routing: The packaging and bottling industry often requires complex cable routing to accommodate various machinery configurations. Drag chains offer flexibility in cable management, allowing for customized cable routing to suit specific production setups.
Improved Safety: Loose cables and hoses can pose safety hazards in a fast-paced packaging environment. Drag chains ensure that cables are contained and out of the way, reducing the risk of accidents and enhancing overall workplace safety.
Resistance to Contaminants: In the packaging industry, there may be exposure to dust, debris, and cleaning agents. Drag chains can be made from materials that resist these contaminants, ensuring the cables remain protected and functional even in harsh environments.
Highly Durable: Drag chains are designed to withstand continuous use and repetitive motion. They are built to endure the demands of high-speed packaging operations and maintain reliable performance over extended periods.
Customizable Designs: Packaging and bottling machinery often come in various sizes and configurations. Drag chains can be customized in terms of size, length, and mounting options to fit specific packaging equipment.
Overall, drag chains provide effective cable management, enhance equipment reliability, and contribute to the efficiency and safety of packaging and bottling processes in the industry.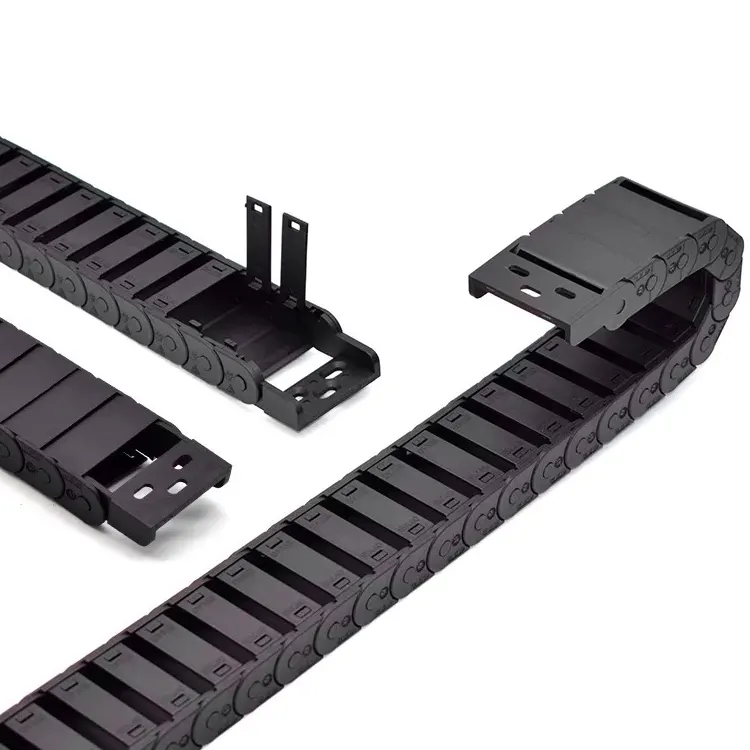 Can drag chains be used in wastewater treatment or sewage systems?
Yes, drag chains can be used in wastewater treatment and sewage systems to manage and protect cables and hoses. These systems often involve complex machinery and equipment that require proper cable management to ensure smooth and efficient operation. Drag chains offer several benefits that make them suitable for such applications:
Cable Protection: In wastewater treatment and sewage systems, various cables and hoses are used to control pumps, valves, and sensors. Drag chains enclose and protect these cables from exposure to water, chemicals, and debris, preventing damage and prolonging their lifespan.
Durability: Drag chains are typically made from durable materials like steel or reinforced plastics, making them resistant to wear, corrosion, and the harsh environment often present in wastewater treatment facilities.
Smooth Movement: The smooth and controlled movement of drag chains ensures that cables and hoses are guided without tangling or snagging, even in applications with continuous motion or high-speed operations.
Cable Organization: Drag chains help organize cables and hoses neatly, reducing the risk of entanglement and simplifying maintenance and repair tasks.
Contamination Prevention: Drag chains provide a barrier that helps prevent contaminants from entering cable and hose channels, minimizing the risk of clogs or malfunctions.
Reduced Downtime: By protecting cables and hoses, drag chains help reduce downtime caused by cable failures or damage, leading to increased overall system reliability and efficiency.
Adaptability: Drag chains are available in various sizes and designs, allowing them to be customized to fit specific wastewater treatment or sewage system requirements.
Resistance to Chemicals: Many drag chain materials are resistant to chemicals commonly found in wastewater and sewage systems, ensuring long-lasting performance even in corrosive environments.
In conclusion, drag chains are a valuable cable management solution for wastewater treatment and sewage systems, providing protection, organization, and durability in challenging industrial settings.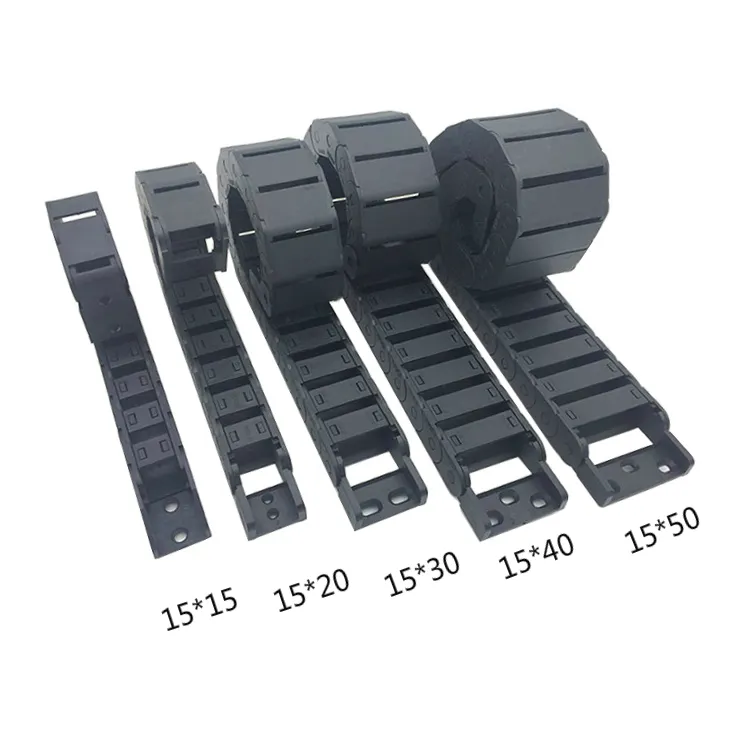 Can drag chains be used in robotic systems and automated machinery?
Yes, drag chains are commonly used in robotic systems and automated machinery to manage and protect cables and hoses. Robotic systems and automated machinery often require a complex network of cables and hoses to power and control the various moving parts and components. Drag chains offer a reliable solution for organizing and guiding these cables, ensuring smooth and efficient operations.
Benefits of using drag chains in robotic systems and automated machinery:
1. Cable Protection: Drag chains enclose and protect cables and hoses from external elements such as dust, debris, and mechanical stress. This protection prevents cable damage, extends their lifespan, and reduces the risk of costly downtime due to cable failures.
2. Cable Management: With a drag chain, cables are neatly organized and guided along a predefined path, reducing the chances of tangling or snagging during the robotic or machine movements. This organized cable management contributes to smoother and more precise operations.
3. Flexibility and Range of Motion: Drag chains are designed to flex and bend, allowing the cables to move freely with the robotic arm or machinery. This flexibility ensures that the cables can follow the range of motion required without any restrictions.
4. Space Optimization: In robotic systems and automated machinery where space is often limited, drag chains provide a space-efficient solution for cable management. They keep cables contained in a compact manner, optimizing the use of available space.
5. Safety: Drag chains contribute to the overall safety of robotic systems and automated machinery by preventing cable entanglement or tripping hazards. The organized cable management reduces the risk of accidents and ensures a safer working environment.
6. Increased Reliability: Reliable cable management provided by drag chains leads to improved overall system reliability. The reduced wear and tear on cables, along with the protection from external factors, result in more dependable and long-lasting performance.
7. Easy Installation and Maintenance: Drag chains are designed for easy installation and maintenance. Cables can be easily added or removed from the chain as needed, simplifying the maintenance process.
In summary, drag chains are essential components in robotic systems and automated machinery, ensuring efficient cable management, protection, and safety. They contribute to the smooth operation and longevity of these systems, making them widely used in a variety of industrial applications.



editor by CX 2023-09-18