Product Description
Product Description
15*30 drag chain is made of high quality nylon material. It has high pressure and tensile load, good toughness, high elasticity and wear resistance, flame retardancy, stable performance at high and low temperatures, and can be used outdoors. Resistance: oil resistance, salt resistance, and certain acid and alkali resistance. Operating speed and acceleration (specific speed and acceleration depend on operating conditions). Long service life.
Detailed Photos
Product Parameters
You can choose the model you need according to the sample book,
and we can customize it according to your requirements.
Certifications
We have passed CE and ISO9001 certification,
We can also provide certificates of origin.
Packaging & Shipping
We use fumigation-free wooden cases for packaging, and the packaging is exquisite, so as to ensure that the goods arrive in your hands 100% intact.
Company Profile
ZheJiang CZPT is a professional Machine Tool Accessories manufacturer in China. An exceptional engineering team, personal
customer service center and high quality manufacturing capabilities have evolved exponentially since our humble beginnings in
2004, making us 1 of the preeminent providers of reliable Machine Tool Accessories world- wide. We have our own manufacturing
workshops in China, business scope covering mainly: plastic drag chain,nylon Cable Carrier, steel cable chain,Chip Conveyor,
Support Arm System, Bellows Cover, Paper Band Filter, Machine Tool Working Light, etc.
 
Our Advantages
We are an 18-year-old factory with rich production experience and fast delivery speed. Professional packaging and after-sales service, there are after-sales service outlets in many countries.
FAQ
Q1: Are you trading company or manufacturer ?
A: We are 18 Years factory
Q2: How long is your delivery time for plastic towline ?
A:(In stock) Generally if you need 1000m Cable Drag Chain, it will take 1-2 days.
(Not in stock) If you need 5000m Cable Drag Chain, it will take 5-10 days.
Q3:Can I add our logo on the purchased plastic cable carrier ?
A:Yes, we can provide OEM & ODM service.
Q4:How should I do, if there is a big problem of the products within 1 year?
A:We can help you with free repairs if it is not man-made damage.
Q5:What's your payment terms?
A:T/T,L/C at sight.Western Union any payment are available if it is convenient to you.
Q6:How do you pack the good?
A:Product will be packed in cartons and wooden box pallets are available if necessary.
| | |
| --- | --- |
| After-sales Service: | Online |
| Warranty: | 1years, 1years |
| Logo Printing: | Without Logo Printing, Without Logo Printing |
| Size: | Small, Small |
| Customized: | Customized, Customized |
| Type: | Machine Tool Accessories, Machine Tool Accessories |
Samples:

US$ 4.2/Meter

1 Meter(Min.Order)

|
Request Sample
Customization:

Available

|

Customized Request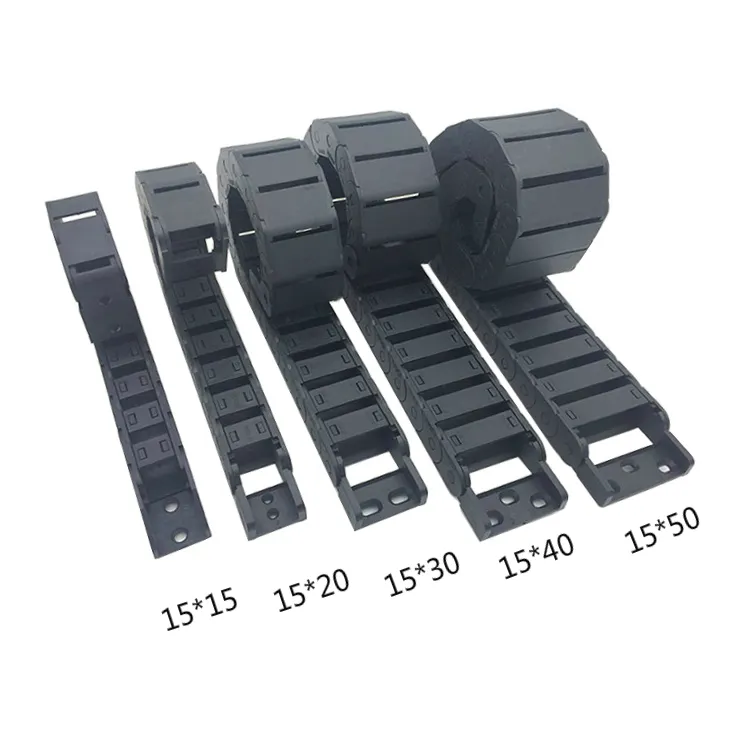 Can drag chains be used in cleanroom environments for sensitive industries?
Yes, drag chains can be used in cleanroom environments for sensitive industries. Cleanrooms are controlled environments that are designed to minimize the presence of airborne particles, dust, and other contaminants. These environments are commonly found in industries such as semiconductor manufacturing, pharmaceuticals, biotechnology, aerospace, and electronics, where even the smallest particles can have a significant impact on product quality and performance.
When using drag chains in cleanroom settings, it is crucial to select drag chains that are specifically designed for such environments. Here are some considerations:
Particle Emissions: Drag chains used in cleanroom environments should have low particle emissions to prevent contamination. Drag chains made from materials like stainless steel or self-lubricating polymers are often preferred as they generate fewer particles during movement.
Smooth and Sealed Design: The drag chain design should be smooth and free of crevices or pockets where particles could accumulate. Sealed or closed designs are preferred to prevent the ingress or egress of particles.
Easy Cleaning and Maintenance: Drag chains should be easy to clean and maintain to minimize the risk of particle accumulation over time. Regular cleaning and maintenance procedures are essential to uphold the cleanroom's integrity.
Chemical Resistance: Depending on the industry, drag chains may be exposed to various cleaning agents and chemicals. The chosen drag chain material should be resistant to these substances to maintain its integrity and prevent contamination.
By using drag chains specifically designed for cleanroom environments, industries can ensure that their sensitive manufacturing processes are protected from particle contamination. Regular inspection, cleaning, and maintenance of the drag chains will help maintain the cleanroom's required cleanliness levels and prevent any potential issues that could impact product quality.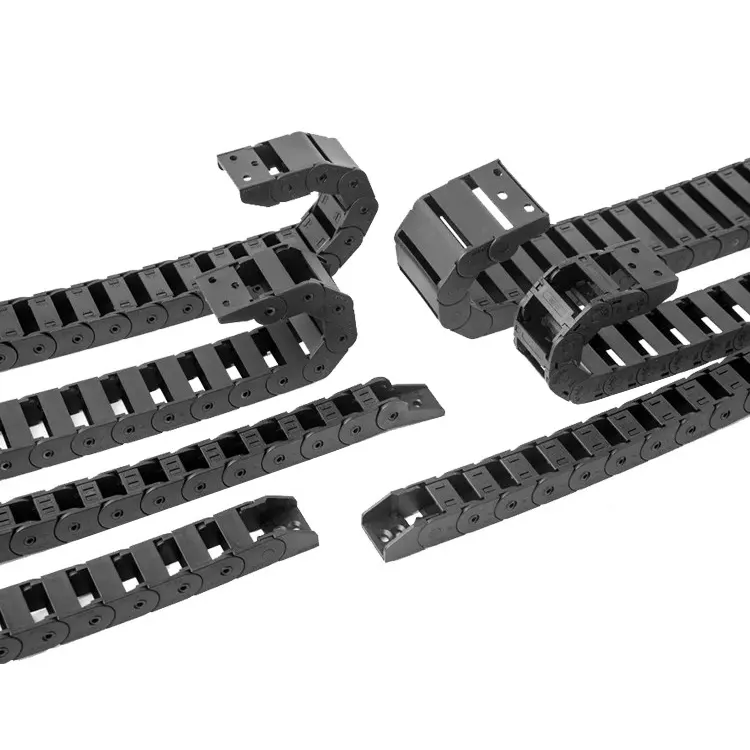 How do drag chains perform in dusty or dirty environments?
Drag chains are designed to perform exceptionally well in dusty or dirty environments, making them ideal for industrial applications where debris, dirt, and contaminants are common. Here's how drag chains excel in such conditions:
Protection: Drag chains enclose and protect cables and hoses, preventing dust, dirt, and debris from coming into direct contact with sensitive components. This protection minimizes the risk of cable damage or premature wear due to environmental factors.
Sealed Design: Many drag chains have a sealed or semi-sealed design, further enhancing their ability to keep out dust and dirt. The sealed construction helps maintain the integrity of cables and hoses, ensuring reliable performance in challenging environments.
Self-Cleaning: Drag chains are often designed with self-cleaning capabilities. As the chain moves, it sweeps away loose particles and debris, reducing the accumulation of dirt and ensuring smooth cable movement.
Durable Materials: Drag chains are typically made from durable materials such as steel, stainless steel, or reinforced plastics. These materials are resistant to wear and can withstand exposure to harsh environmental conditions.
Easy Maintenance: Despite operating in dusty or dirty environments, drag chains are designed for easy maintenance. They can be opened and cleaned when needed, allowing for quick removal of accumulated dirt or debris.
Long Service Life: By providing effective cable protection and reducing exposure to contaminants, drag chains contribute to the longevity of cables and hoses, extending their service life in challenging industrial settings.
Variety of Designs: Drag chains come in various designs and styles to suit specific applications. Whether the environment requires additional protection from dust, moisture, or chemicals, there are drag chain options available to meet those needs.
In summary, drag chains are highly effective in dusty or dirty environments due to their protective and self-cleaning features, durable materials, and ease of maintenance. They play a crucial role in ensuring the reliable and efficient performance of cable and hose management in challenging industrial conditions.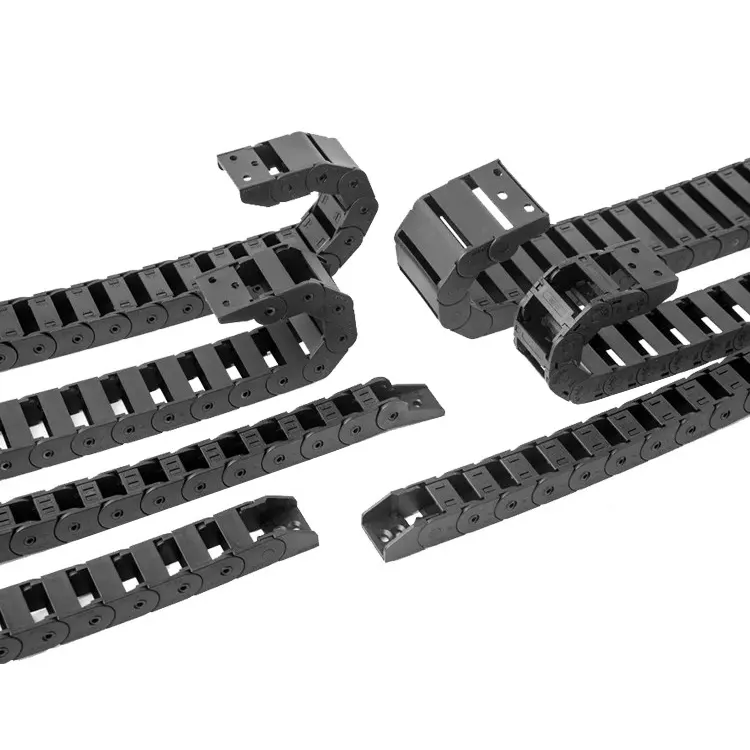 What industries commonly utilize drag chains for cable management?
Drag chains are widely used in various industries for effective cable and hose management. Some of the common industries that utilize drag chains include:
1. Automation and Robotics:
In automation and robotic systems, drag chains play a vital role in guiding and protecting cables that power and control the machinery's movements. They ensure smooth cable management and prevent tangling or snagging, contributing to the reliable operation of automated processes.
2. Machine Tools:
In machine tool applications, drag chains manage the cables and hoses that supply power and coolant to various components. They keep the cables organized and prevent damage from debris or moving machine parts, ensuring the machine's efficiency and longevity.
3. Material Handling:
In material handling equipment such as conveyors, cranes, and forklifts, drag chains are used to manage power and control cables, as well as hydraulic hoses. They protect the cables from external elements, such as dust and debris, and contribute to safe and efficient material handling operations.
4. Packaging and Printing:
In packaging and printing industries, drag chains are employed to manage cables and hoses that control the packaging machinery and printing equipment. They prevent cable damage during repeated movements and ensure continuous and reliable production.
5. Automotive Manufacturing:
In automotive assembly lines, drag chains are used to manage cables that power robotic arms, conveyors, and other automated equipment. They provide a safe and organized cable management solution, contributing to efficient and precise manufacturing processes.
6. Energy and Utilities:
In power generation plants and utilities, drag chains manage cables for transmitting electricity, control signals, and data. They protect the cables from harsh environments and mechanical stress, ensuring reliable power distribution and control.
7. Aerospace and Aviation:
In the aerospace industry, drag chains are utilized in aircraft manufacturing and maintenance to manage cables and hoses for various systems, including hydraulics and electrical controls. They help maintain the integrity and functionality of critical aircraft components.
8. Mining and Construction:
In mining and construction equipment, drag chains are used to manage cables that power heavy machinery and control various functions. They offer protection from harsh environments and ensure uninterrupted operations.
9. Food and Beverage:
In food processing and beverage industries, drag chains are used to manage cables and hoses in conveyor systems and automated machinery. They meet strict hygiene standards and ensure smooth production processes.
10. Marine and Offshore:
In marine and offshore applications, drag chains manage cables and hoses on ships and offshore platforms, providing protection in demanding environments and marine conditions.
These industries are just a few examples of where drag chains are commonly used for efficient cable and hose management. Drag chains offer a reliable solution for protecting and organizing cables, ensuring safe and smooth operations in various industrial applications.



editor by CX 2023-09-06