Product Description
About Factory 
With more than 18 years' histiory, we are a professinal manufacturer for drop forged products such as forged chain (X348 X458 X658 X678 X698 F100 F160), scraper chain (10160, 14218, 14226, 142N), conveyor trolley (X348, X458, X678, XT160), and drive chain (X348, X458, X678), and so forth standard moulds of chain. 
Besides, we can also produce as per your drawing or sample, special link chain, pusher, pin and plate, according to customers' unique requirements.
Product Description
1) Material: Alloy steel, 40Cr, 42CrMo and so on.
2) Types: Standard types, X348 X458 X678, and so on. (Or as per your drawing)
3) Process: Moulding→Forging→Polishing & Blasting→Fine machining→Heat treatment→Blasting→Inspecting & testing→Packing
Product Show
 
Technical Data
 
Model
Dimension
Weight (Kg)
Material
Hardness
Working Load (KN)
Limit Load (KN)
P
T
C
S
F
R
D
10160B
101.6
24
36
13
14
6
14
0.32
20CrMnTi
Surface HRC56-64°    
Depth 0.6-1.2mm
18
100
10160
101.6
30
36
13
14.5
9
14
0.36
20CrMnTi
Surface HRC56-64°     Depth 0.6-1.2mm
21.6
120
14218
142
42
50
19
20.5
11
25
1.15
20CrMnTi
Surface HRC56-64°     Depth 0.6-1.2mm
48.6
270
14226
142
62
50
28
30
15
25
1.75
20CrMnTi
Surface HRC56-64°     Depth 0.6-1.2mm
61.2
340
2571
200
66
60
30
32
18
30
2.8
20CrMnTi
Surface HRC56-64°     Depth 0.6-1.2mm
72
400
26014
260
70
75
31
33
20
34
5.2
20CrMnTi
Surface HRC56-64°     Depth 0.6-1.2mm
135
750
142N
142
43
50
19
22
12.5
25
1.2
40Cr
Quench HRC36-44°
75.6
420
150D
142
42
50
19
20.5
11
25
1.15
40Cr
Quench HRC36-44°
75.6
420
MG20
200
70
50
27
29
17
35
3.78
40Cr
Quench HRC36-44°
144
800
MG20B
200
70
50
27
29
17
30
3.82
40Cr
Quench HRC36-44°
140.4
780
MG20C
200
70
50
27
29
17
28
3.85
40Cr
Quench HRC36-44°
122.4
680
MS32
200
42
50
20
22
12
25
1.4
40Cr
Quench HRC36-44°
75.6
420
MS55
200
80
70
35
38
25
28
4.36
40Cr
Quench HRC36-44°
138.6
770
3006
200
65
70
30
33
24
32
3.6
40Cr
Quench HRC36-44°
160.2
890
MS63
250
70
80
30
33
20
32
4.93
40Cr
Quench HRC36-44°
147.6
820
S16
100
30
27
15
16
8
14
0.3
40Cr
Quench HRC36-44°
16
88
S20
125
34
33
17
18
8
17
0.37
40Cr
Quench HRC36-44°
19.4
108
S25
160
48
39
23
25
13
20
1.28
40Cr
Quench HRC36-44°
55.8
310
S30
142
46
49
22
23.5
14
25
1.3
40Cr
Quench HRC36-44°
91.8
510
Z16
100
40
35
18
20
12
17
0.4
40Cr
Quench HRC36-44°
32.4
180
Z20
125
50
46
24
26
15
20
0.67
40Cr
Quench HRC36-44°
59.4
330
Z20D
125
52
60
24
26
16
26
1.15
40Cr
Quench HRC36-44°
82.8
460
Z25
160
58
55
28
30
18
25
2.25
40Cr
Quench HRC36-44°
82.8
460
Z25D
160
66
64
29
31
22
28
2.6
40Cr
Quench HRC36-44°
120.6
670
Z30
142
64
50
29
30.5
18
25
1.8
40Cr
Quench HRC36-44°
111.6
620
Products & Testing Equipments
 
Products Application

Packing & Delivery
 
Why Choose Us?
1. We are engaged in chain industry over 15 years with rich market experience. We keep improving production techniques. All the products have longer working life and have passed the market test.
2. We can design the correct chains with high quality material, good abrasion resistance, good corrosion, high strengthen and etc as per your request or the chain application.
3. We are the chain manufacturer; you can directly purchase the product from us with low price and high quality.
4. We have a professional team for international trade, they have abundant experiences and are always ready to solve problems for customers. So you have nothing to worry about.
5. We have the long-term cooperative forwarder who can give us the lowest freight. And it can help you to save the freight. What's more, for the FCL, we will design the packages as per the container sizes with the largest capacity to save the shipping cost for both of us.
| | |
| --- | --- |
| Standard or Nonstandard: | Standard |
| Application: | Textile Machinery, Garment Machinery, Conveyer Equipment, Packaging Machinery, Electric Cars, Motorcycle, Food Machinery, Mining Equipment, Agricultural Machinery, Coating, Spraying, Mining, Slaughtering, Assembly |
| Surface Treatment: | Polishing |
| Structure: | Combined Chain |
| Material: | Alloy |
| Type: | Cranked Link Chain |
Samples:

US$ 5/Piece

1 Piece(Min.Order)

|
Request Sample
Customization:

Available

|

Customized Request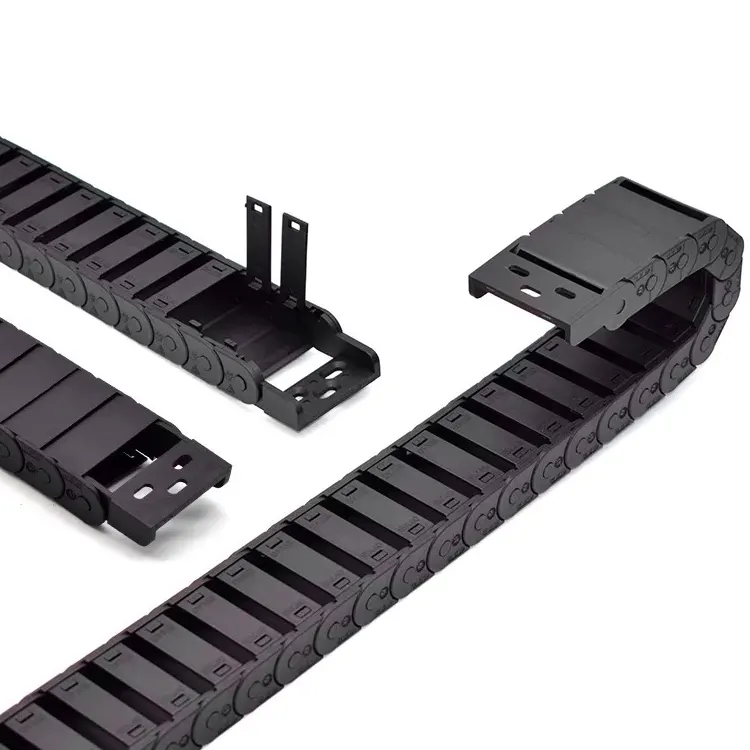 Can drag chains be used in the packaging and bottling industry?
Yes, drag chains can be used in the packaging and bottling industry, and they offer several advantages that make them a suitable choice for this application:
Cable Protection: In the packaging and bottling industry, there are various electrical cables, pneumatic hoses, and fluid lines that need to be protected from damage. Drag chains provide a secure housing that prevents these vital components from being exposed to potential hazards, such as moving machinery or sharp edges.
Reduced Downtime: Packaging and bottling operations often involve high-speed and continuous movement of machinery. Drag chains keep cables organized and prevent tangling, reducing the risk of cable damage and minimizing downtime caused by cable-related issues.
Flexible Cable Routing: The packaging and bottling industry often requires complex cable routing to accommodate various machinery configurations. Drag chains offer flexibility in cable management, allowing for customized cable routing to suit specific production setups.
Improved Safety: Loose cables and hoses can pose safety hazards in a fast-paced packaging environment. Drag chains ensure that cables are contained and out of the way, reducing the risk of accidents and enhancing overall workplace safety.
Resistance to Contaminants: In the packaging industry, there may be exposure to dust, debris, and cleaning agents. Drag chains can be made from materials that resist these contaminants, ensuring the cables remain protected and functional even in harsh environments.
Highly Durable: Drag chains are designed to withstand continuous use and repetitive motion. They are built to endure the demands of high-speed packaging operations and maintain reliable performance over extended periods.
Customizable Designs: Packaging and bottling machinery often come in various sizes and configurations. Drag chains can be customized in terms of size, length, and mounting options to fit specific packaging equipment.
Overall, drag chains provide effective cable management, enhance equipment reliability, and contribute to the efficiency and safety of packaging and bottling processes in the industry.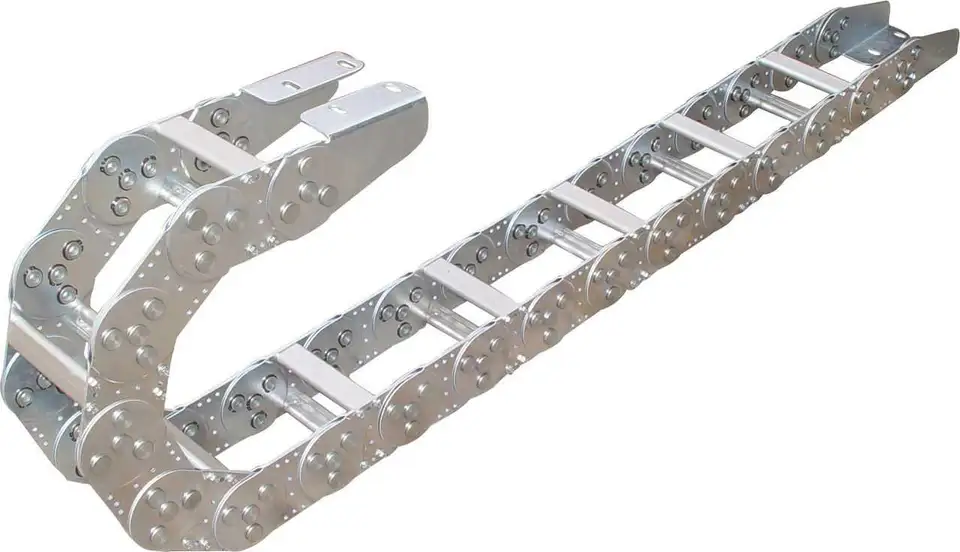 Can drag chains be used in the energy and power generation sector?
Yes, drag chains are commonly used in the energy and power generation sector for cable management and protection. The energy and power generation industry includes power plants, renewable energy facilities, electrical substations, and other related applications. Here's how drag chains are utilized in this sector:
Cable Protection: The energy and power generation sector often involves a complex network of cables and hoses that carry electricity, signals, and fluids. Drag chains are used to protect these cables from damage caused by continuous motion, abrasion, and exposure to external elements.
Dynamic Applications: In power generation facilities, various equipment such as turbines, generators, and transformers require dynamic cable management due to continuous movement. Drag chains can handle these dynamic applications, ensuring that cables and hoses remain organized and safely routed during equipment operation.
Harsh Environments: Power plants and substations may expose cables to harsh environments, including extreme temperatures, chemicals, and outdoor conditions. Drag chains made from durable and corrosion-resistant materials can withstand these challenges, providing reliable cable protection and management.
High Loads: Drag chains are capable of supporting multiple cables and hoses, even in applications with high loads and complex cable configurations. They prevent cables from tangling, getting caught, or suffering excessive stress during equipment operation.
Long Travel Distances: In some power generation facilities, cables may need to travel long distances to connect different components and systems. Drag chains facilitate smooth movement over these long travel distances, ensuring that cables are managed efficiently and without interference.
Enhanced Safety: Cable management is critical in the power generation sector to maintain a safe working environment. Drag chains keep cables organized, reducing the risk of accidents caused by cable entanglement or tripping hazards.
Reliability and Longevity: Drag chains are designed for long service life and reliable performance, minimizing downtime and maintenance requirements. This is especially important in critical power generation applications where uninterrupted operation is essential.
Overall, drag chains play a crucial role in the energy and power generation sector by providing efficient cable management and protection. Their ability to handle continuous flexing, harsh environments, and dynamic applications makes them a valuable solution for ensuring the reliability and safety of cable systems in this industry.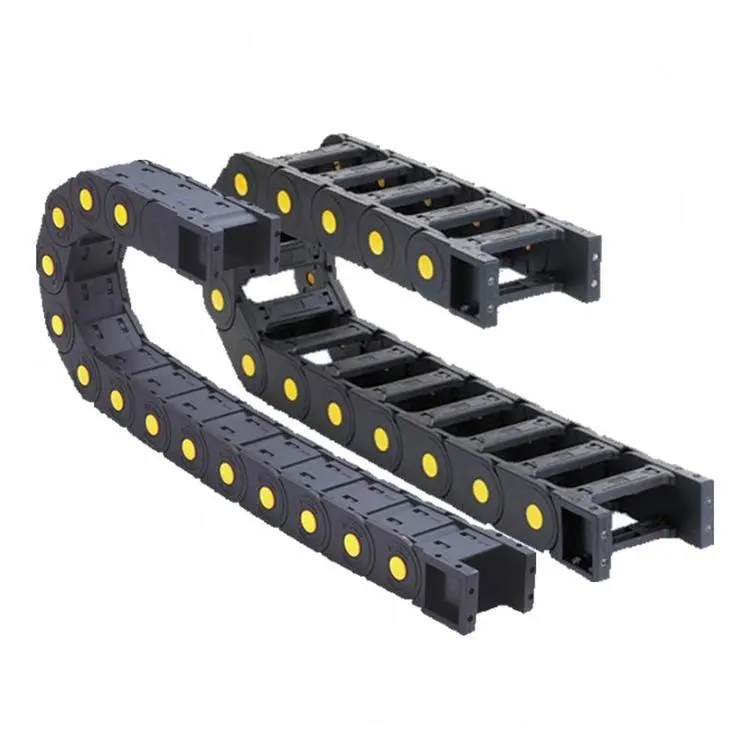 What materials are drag chains typically made of to ensure durability?
Drag chains are typically made of various materials that are carefully chosen to ensure durability and longevity in industrial applications. The choice of materials depends on factors such as the application's environment, load capacity requirements, and the type of cables or hoses they will be carrying. Some common materials used in drag chain construction include:
1. Plastic (Polymer): High-quality engineering plastics, such as nylon, polypropylene, or polyethylene, are commonly used for lightweight and low-cost drag chains. These plastic chains offer excellent resistance to corrosion, chemicals, and moisture, making them suitable for a wide range of industrial environments.
2. Steel: Drag chains made of steel are known for their high strength and durability, making them ideal for heavy-duty applications and environments with high impact or abrasive conditions. Steel chains are capable of carrying heavy loads and provide superior protection for cables and hoses.
3. Stainless Steel: For applications requiring additional resistance to corrosion and chemicals, stainless steel drag chains are preferred. They are especially useful in industries where exposure to harsh environments or frequent washdowns is common, such as food processing, pharmaceuticals, and outdoor applications.
4. Aluminum: Aluminum drag chains offer a lightweight alternative to steel while still providing sufficient strength for many industrial applications. They are often used in applications where weight reduction is essential, such as in robotics and automation systems.
5. Hybrid Chains: Some drag chains feature hybrid designs, combining multiple materials to optimize performance. For example, a drag chain might have a plastic body with reinforced steel or stainless steel links for added strength and rigidity.
Overall, the choice of material for a drag chain depends on the specific requirements of the application, including the load capacity, environmental conditions, and the need for resistance to corrosion, chemicals, and other external factors. By selecting the appropriate material, drag chains can ensure durability and reliable cable protection in a wide range of industrial settings.



editor by CX 2023-09-19
Merchandise Description
Black oxide carbon metal roller chain travel sprocket
With more than twenty years' expertise, higher-precision tools and stringent management technique, CZPT can supply sprockets, gears, shafts, flanges and connected transmission areas for you with steady high quality and greatest service.
Q1: What data will be extremely appreciated for a quotation?
A: It will be desired if you can supply us the drawings, heat treatment and surface therapy requirements, essential quantity, quoted forex (USD or EUR), or samples.
Q2: Are you a trading business or manufacturing facility?
A: CZPT is a manufacturing unit situated in HangZhou, ZheJiang .
Q3: What is your phrases of payment?
A: T/T 50% in advance, and 50% just before cargo. We will demonstrate you the pictures of the merchandise and offers before you spend the harmony.
Q4: Do you take a look at all your items just before shipping?
A: Of course, CZPT has adopted a strict good quality administration technique and all the items will be inspected in accordance to the inspection instruction with good inspection documents.
Q5: Is there any customer that has assessed your top quality administration technique?
A:Of course, CZPT has passed the audit of many consumers, this kind of as Mitsubishi, CLAAS, Kardex and so on.
Q6: How does your company make sure the quality of the uncooked materials?
A: The steels are obtained from our domestic well-acknowledged metal mills. Right after acquiring the uncooked material, the steel will be inspected by spectrograph imported from Germany. Besides, the CZPT quantity of metal will be properly-managed in our ERP method to make sure the traceablity of our items.
Q7: How do you make certain the large top quality of products?
A: With integral manufacturing procedures, a stringent top quality management program and imported devices, we can manufacture substantial quality products.
Q8: What are your phrases of supply?
A: EXW, FOB ZheJiang .
Q9: How about your lead time?
A: Usually it will consider 45 days after obtaining your progress payment. The distinct direct time depends on the items and the amount of your buy.
Advantages and Disadvantages of Drive Chains
Drive chains are widely used for sliding steel guides. While solution chains are often used, roller chains are more efficient in size and weight. Nevertheless, a drive chain is often the best choice for dirty jobs. The following are some of the benefits and disadvantages of drive chains. Learn more! Adapt your vehicle to your specific situation with drive chains. You'll be glad you did! Read on to learn more! Continue reading for information on different types of drive chains.
Inverted tooth chain
An inverted tooth camshaft drive chain has teeth on its links and two pin rolling pivot joints that engage each other to transmit moderate to high-speed rotations. This type of drive chain is also known as a silent chain drive, which is particularly effective in reducing noise and vibration. The teeth on the links mesh perfectly with the teeth of the gear sprocket. The inverted tooth design also provides smooth communication of chain links with the teeth of the sprocket.
The design of the new model was particularly effective in quelling noise. The "Druid" spring forks enabled the chain to adjust with minimal motion of the axle. It was launched at the 1910 Olympia show and sold more than 500 units. The drive chain was also silent, which reduced the need for sound insulation and attenuation components, which in turn minimized weight. Hence, it became an ideal choice for wind turbines.
The main disadvantages of chain drive include its low speed and limited range. It is expensive to manufacture and requires precise mounting. Maintenance is essential, including lubrication and slack adjustment. Its velocity fluctuates as the chain is stretched. This causes the chain to fail at the worst possible time. The chain drive also has problems associated with slippage. In addition, it can be prone to excessive wear and tear. Fortunately, however, there are newer types of drive chains available, which are more durable and reliable.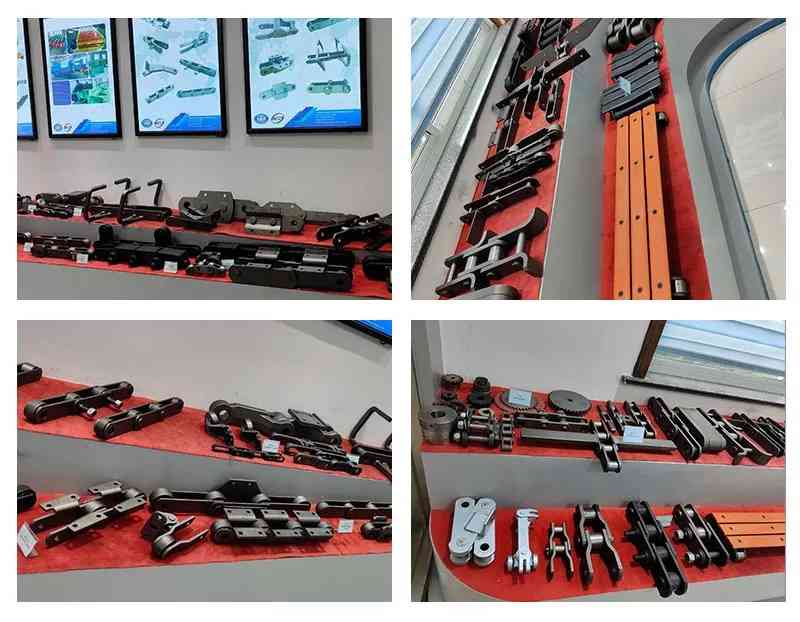 Duplex chain
There are three types of duplex drive chains: SC, RP, and Ramsey. Each has their own unique advantages and features. The Rampower duplex series offers twice the power capacity of the standard SC duplex chain. They are often used in new applications. SC duplex chains are the most affordable and are used in less demanding applications. The SC duplex chain has a lower power capacity but lower weight. There is also no guarantee of performance.
Multi-strand roller chain
The Multiple-strand roller chain for drive chain market can be defined on the basis of the factors that drive growth in this industry. The factors that hamper market growth can be understood in order to come up with alternative bends for lucrative opportunities. This report aims to understand the current scenario and the impact of COVID-19 on the industry as a whole. We will also discuss the market drivers and restraints. We will discuss the various types of Multiple-strand roller chains for drive chain and their market sizes in the coming years.
The minimum tensile strength for a roller chain is one sixth or one-ninth the tensile strength of a conventional drive chain. These standards are established to prevent linkplate fatigue, which is the main cause of premature breakdown. A chain made of this material is considered a superior choice for high-performance applications involving a high load-bearing capacity. If you're using a drive chain, make sure to choose a proper chain based on the type of application. A simple chain with a high load-bearing capacity is also ideal for simple applications.
While it is true that a high-tension, high-speed drive requires a higher power rating than a low-speed chain, roller chains are primarily used in low to mid-speed applications. They are similar to bicycle chains but may have a master link. In motorcycles, chains are heavier and may require a chain tool to remove. These chains are often replaced with toothed belts or a combination of both.
Flat top chain
The flat top drive chain is a versatile conveyor belt that conveys medium and large workpiece pallets. Its arcing capacity makes it suitable for continuous drive combinations involving curve arcs. The flat top chain is also available with PA wear pads on the workpiece pallets. The flat top chain's steel and plastic glide profiles allow surface loads of up to 1.5 kg/cm. HD profiles are compatible with the flat top chain.
The steel flat top chain is available in several types: 815, 820, and 881 series. These are heat-treated to have high strength and excellent wear resistance. They can also be used with various sprockets, including 820 sprockets. The high-quality steel chain can be used with many industrial applications. However, if you are looking for a durable chain for your industrial application, iwis hardened stainless steel flat top chains are an excellent choice.
TSplus flat top drive chain offers the most flexibility of any conveying media. The drive units can be linked end-to-end to form extended conveyor lines. Side-flexing flat top chains are available to create serpentine, in-line, and carousel conveyors. Drive units are available in standard and heavy-duty models. They are versatile enough to handle a variety of container sizes. If you need a more complex conveyor system, you can choose a heavy-duty drive chain.
Rexnord flat top chains come in two basic styles: MatTop chain and TableTop chain. The TableTop chain is molded in standard widths ranging from 3.25 inches to 12 inches. These are shipped in ten-foot sections, but you can also find 20-foot-wide mattop chains. You can even customize your MatTop chain to meet your exact needs. They are perfect for a variety of conveying applications, from general conveying to wash down applications.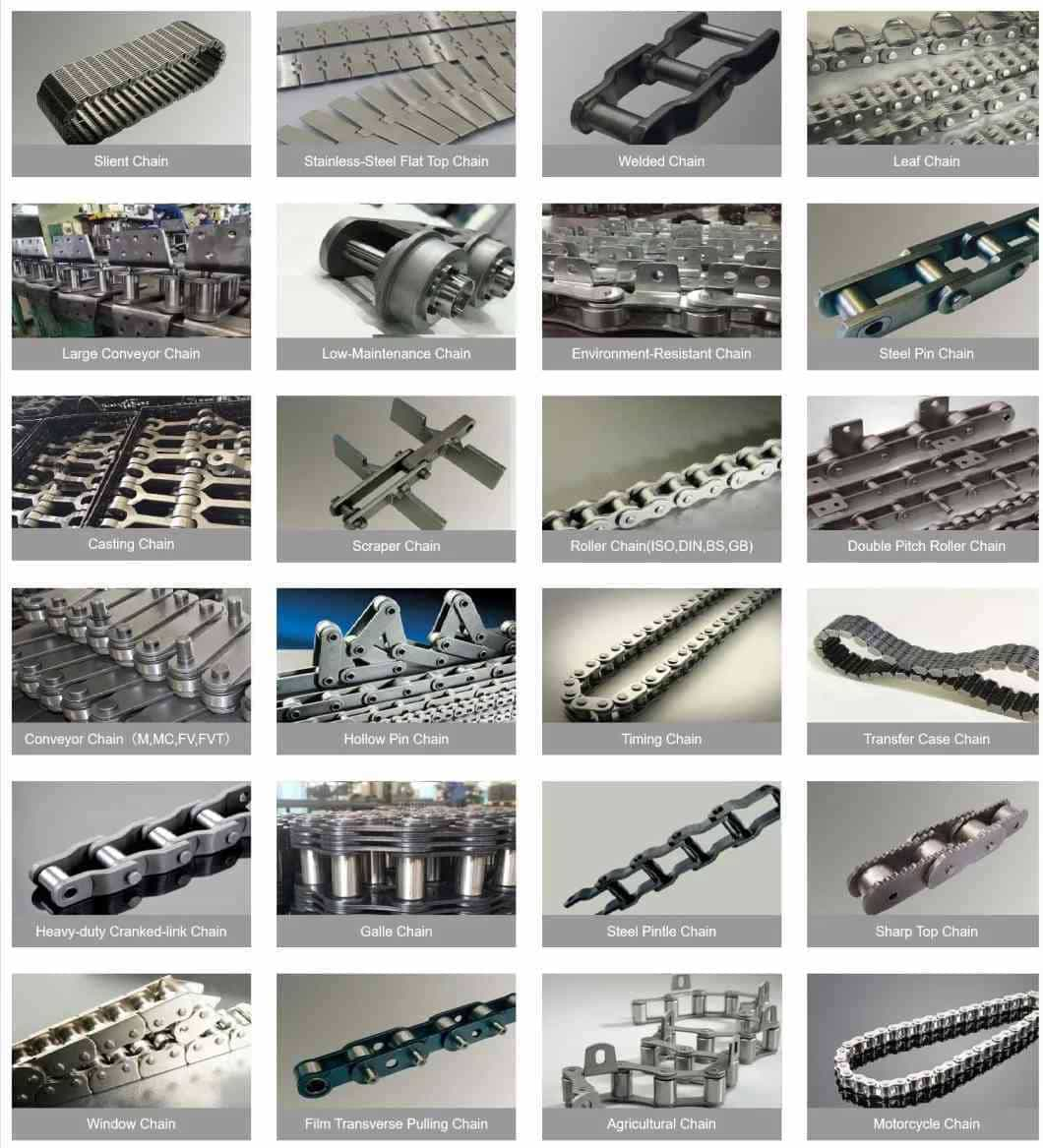 Conveyor chain
Drive chains for conveyors come in a variety of styles. These chains can have varying degrees of pitch. Pitch is governed by wheel tooth strength, the overall chain rigidity, and the type of drive motor. A normal maximum pitch is determined by the width of the link plates and the angle between the mounting angles. You can increase the pitch of your chain by strengthening the bushes between the link plates. Make sure that the gap between the wheel teeth and the bushes is approximately one-fourth inch.
Pitch and tension of the chain are important considerations when choosing a chain. The minimum pitch is determined by the thickness of the tooth on the wheel and the maximum pitch is determined by the rigidity of the link plates. However, this maximum pitch may be exceeded with bushes between the link plates or clearance with the wheel teeth. A good quality chain will have bearing surfaces lubricated to prevent excessive wear and rust. Medium-viscosity mineral oil is suitable for normal operating conditions. SAE 20W-50 is a good choice for this application. Self-lubricating chains are available from many chain manufacturers.
The chain is usually lubricated by dripping oil between the links. This type of lubrication requires regular inspection of the conveyor chain. The amount of oil should be enough to prevent reddish brown discoloration on the chain joints. A lubricating oil should be applied on a daily basis, according to the manufacturer's specifications. In order to ensure a longer life for your drive chain, make sure that you lubricate it on a regular basis.