Product Description
1) Specification: Dia. 11 ~ 162mm
2) Grade: AM1 ~ AM3
3) Anchor chain connection type
A) Kenter connection, chain connection
B. "D" connection, shackle connection
 
Powerful Machinery
   Key Features
 
      Grade: U2 and U3
      Size: dia. 12.5mm – 162mm
      Accessories: All kinds of shackles, swivels & Anchors
      Certificate: ABS, CCS, NK, BV, KR, DNV, LR, GL, RINA, RS
      Surface: Black Painted, Hot Dip Galvanized, Self Colored, etc
  
   Introduction
       Anchor chain is used for anchor chains on larger vessels.
        such as super yachts, fishing vessels, merchant ships, oil rigs   etc.    
    A full range of auxiliary fittings such as kenter joining shackles,    
        swivels and links are available with full test certification available
        by request.
 
      Moreover, It prevents the chain from knotting up when twisted,
        thus avoiding problems when chain is retrieved with a windlass.
 
   Product show———————————————————————————— 
 
Break Load
Proof Load
 
Chain
Weight
Diameter
   
   
AM1
AM2
AM3
AM1
AM2
AM3
   
mm
KN
KN
KN
KN
KN
KN
kg/m
11
52
72
102
36
52
72
2.65
12.5
66
92
132
46
66
92
3.42
14
82
116
165
58
82
116
4.29
16
107
150
216
76
107
150
5.61
17.5
127
179
256
89
127
179
6.71
19
150
211
301
105
150
211
7.91
20.5
175
244
349
123
175
244
9.2
22
200
280
401
140
200
280
10.6
24
237
332
476
167
237
332
12.61
26
278
389
556
194
278
389
14.8
28
321
449
642
225
321
449
17.17
30
368
514
735
257
368
514
19.71
32
417
583
833
291
417
583
22.43
34
468
655
937
328
468
655
25.32
36
523
732
1050
366
523
732
28.38
38
581
812
1160
406
581
812
31.62
40
640
895
1280
448
640
895
35.04
42
703
981
1400
492
703
981
38.63
44
769
1080
1540
538
769
1080
42.4
46
837
1170
1680
585
837
1170
46.34
48
908
1270
1810
635
908
1270
50.46
50
981
1370
1960
686
981
1370
54.75
52
1060
1480
2110
739
1060
1480
59.22
54
1140
1590
2270
794
1140
1590
63.86
56
1220
1710
2430
851
1220
1710
68.68
58
1290
1810
2600
909
1290
1810
73.67
60
1380
1940
2770
969
1380
1940
78.84
62
1470
2060
2940
1030
1470
2060
84.18
64
1560
2190
3130
1100
1560
2190
89.7
66
1660
2310
3300
1160
1660
2310
95.4
68
1750
2450
3500
1230
1750
2450
101.3
70
1840
2580
3690
1290
1840
2580
107.3
73
1990
2790
3990
1390
1990
2790
116.71
76
2150
3571
4300
1500
2150
3571
126.5
78
2260
3160
4500
1580
2260
3160
133.2
81
2410
3380
4820
1690
2410
3380
143.69
84
2580
3610
5160
1800
2580
3610
154.53
87
2750
3850
5500
1920
2750
3850
165.76
90
2920
4090
5840
2050
2920
4090
177.39
92
3040
4260
6080
2130
3040
4260
185.36
95
3230
4510
6440
2260
3230
4510
197.56
97
3340
4680
6690
2340
3340
4680
206.06
100
3530
4940
7060
2470
3530
4940
219
102
3660
5120
7320
2560
3660
5120
227.85
105
3850
5390
7700
2700
3850
5390
241.45
107
3980
5570
7960
2790
3980
5570
250.73
111
4250
5940
8480
2970
4250
5940
269.83
114
4440
6230
8890
3110
4440
6230
284.61
117
4650
6510
9300
3260
4650
6510
299.79
120
4850
6810
9720
3400
4850
6810
315.36
122
5000
7000
9990
3500
5000
7000
325.96
124
5140
7200
15710
3600
5140
7200
336.73
127
5350
7490
1571
3750
5350
7490
353.23
130
5570
7800
11140
3900
5570
7800
370.11
132
5720
8000
11420
4000
5720
8000
381.59
137
6080
8510
12160
4260
6080
8510
411.04
142
6450
9030
12910
4520
6450
9030
441.59
147
6840
9560
13660
4790
6840
9560
473.24
152
7220
15710
14430
5050
7220
15710
505.98
157
7600
10640
15200
5320
7600
10640
539.81
162
7990
11180
15980
5590
7990
11180
574.74
| | |
| --- | --- |
| Application: | Ship, Offshore |
| Surface Treatment: | Baking Paint |
| Material: | Iron |
| Type: | Stud Link |
| Grade: | U2 and U3 |
| The Material: | Alloy |
Customization:

Available

|

Customized Request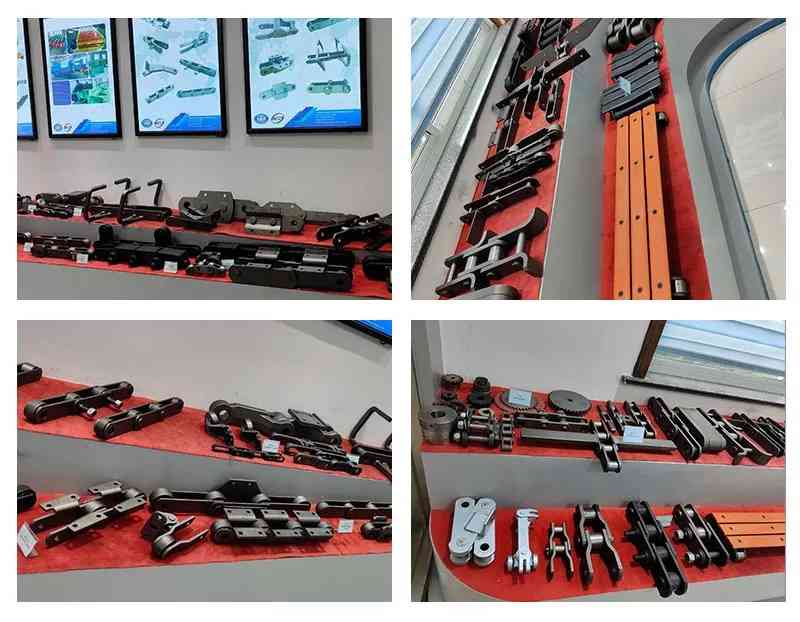 Advantages and Disadvantages of Drive Chains
Drive chains are widely used for sliding steel guides. While solution chains are often used, roller chains are more efficient in size and weight. Nevertheless, a drive chain is often the best choice for dirty jobs. The following are some of the benefits and disadvantages of drive chains. Learn more! Adapt your vehicle to your specific situation with drive chains. You'll be glad you did! Read on to learn more! Continue reading for information on different types of drive chains.
Inverted tooth chain
An inverted tooth camshaft drive chain has teeth on its links and two pin rolling pivot joints that engage each other to transmit moderate to high-speed rotations. This type of drive chain is also known as a silent chain drive, which is particularly effective in reducing noise and vibration. The teeth on the links mesh perfectly with the teeth of the gear sprocket. The inverted tooth design also provides smooth communication of chain links with the teeth of the sprocket.
The design of the new model was particularly effective in quelling noise. The "Druid" spring forks enabled the chain to adjust with minimal motion of the axle. It was launched at the 1910 Olympia show and sold more than 500 units. The drive chain was also silent, which reduced the need for sound insulation and attenuation components, which in turn minimized weight. Hence, it became an ideal choice for wind turbines.
The main disadvantages of chain drive include its low speed and limited range. It is expensive to manufacture and requires precise mounting. Maintenance is essential, including lubrication and slack adjustment. Its velocity fluctuates as the chain is stretched. This causes the chain to fail at the worst possible time. The chain drive also has problems associated with slippage. In addition, it can be prone to excessive wear and tear. Fortunately, however, there are newer types of drive chains available, which are more durable and reliable.
Duplex chain
There are three types of duplex drive chains: SC, RP, and Ramsey. Each has their own unique advantages and features. The Rampower duplex series offers twice the power capacity of the standard SC duplex chain. They are often used in new applications. SC duplex chains are the most affordable and are used in less demanding applications. The SC duplex chain has a lower power capacity but lower weight. There is also no guarantee of performance.
Multi-strand roller chain
The Multiple-strand roller chain for drive chain market can be defined on the basis of the factors that drive growth in this industry. The factors that hamper market growth can be understood in order to come up with alternative bends for lucrative opportunities. This report aims to understand the current scenario and the impact of COVID-19 on the industry as a whole. We will also discuss the market drivers and restraints. We will discuss the various types of Multiple-strand roller chains for drive chain and their market sizes in the coming years.
The minimum tensile strength for a roller chain is one sixth or one-ninth the tensile strength of a conventional drive chain. These standards are established to prevent linkplate fatigue, which is the main cause of premature breakdown. A chain made of this material is considered a superior choice for high-performance applications involving a high load-bearing capacity. If you're using a drive chain, make sure to choose a proper chain based on the type of application. A simple chain with a high load-bearing capacity is also ideal for simple applications.
While it is true that a high-tension, high-speed drive requires a higher power rating than a low-speed chain, roller chains are primarily used in low to mid-speed applications. They are similar to bicycle chains but may have a master link. In motorcycles, chains are heavier and may require a chain tool to remove. These chains are often replaced with toothed belts or a combination of both.
Flat top chain
The flat top drive chain is a versatile conveyor belt that conveys medium and large workpiece pallets. Its arcing capacity makes it suitable for continuous drive combinations involving curve arcs. The flat top chain is also available with PA wear pads on the workpiece pallets. The flat top chain's steel and plastic glide profiles allow surface loads of up to 1.5 kg/cm. HD profiles are compatible with the flat top chain.
The steel flat top chain is available in several types: 815, 820, and 881 series. These are heat-treated to have high strength and excellent wear resistance. They can also be used with various sprockets, including 820 sprockets. The high-quality steel chain can be used with many industrial applications. However, if you are looking for a durable chain for your industrial application, iwis hardened stainless steel flat top chains are an excellent choice.
TSplus flat top drive chain offers the most flexibility of any conveying media. The drive units can be linked end-to-end to form extended conveyor lines. Side-flexing flat top chains are available to create serpentine, in-line, and carousel conveyors. Drive units are available in standard and heavy-duty models. They are versatile enough to handle a variety of container sizes. If you need a more complex conveyor system, you can choose a heavy-duty drive chain.
Rexnord flat top chains come in two basic styles: MatTop chain and TableTop chain. The TableTop chain is molded in standard widths ranging from 3.25 inches to 12 inches. These are shipped in ten-foot sections, but you can also find 20-foot-wide mattop chains. You can even customize your MatTop chain to meet your exact needs. They are perfect for a variety of conveying applications, from general conveying to wash down applications.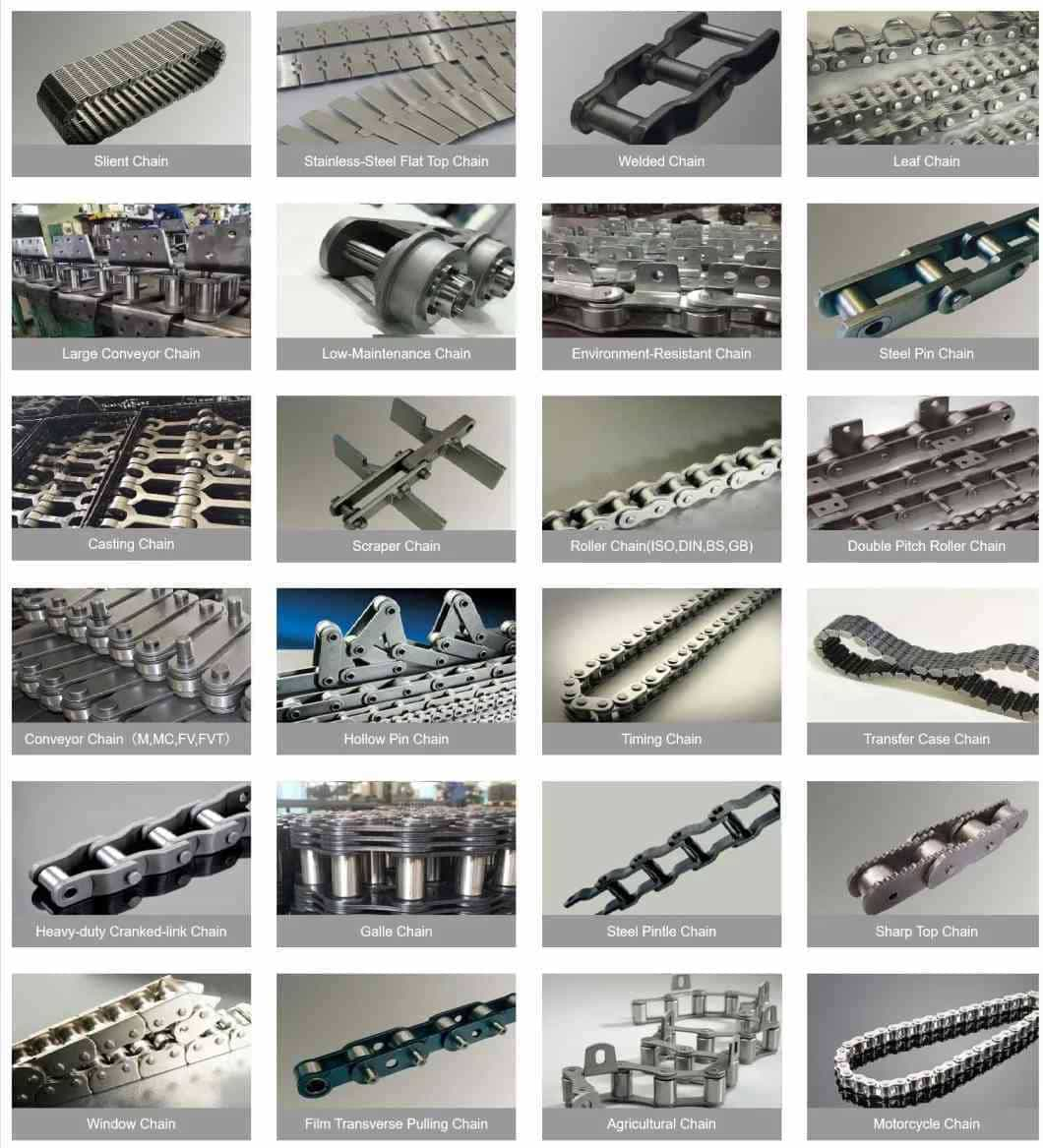 Conveyor chain
Drive chains for conveyors come in a variety of styles. These chains can have varying degrees of pitch. Pitch is governed by wheel tooth strength, the overall chain rigidity, and the type of drive motor. A normal maximum pitch is determined by the width of the link plates and the angle between the mounting angles. You can increase the pitch of your chain by strengthening the bushes between the link plates. Make sure that the gap between the wheel teeth and the bushes is approximately one-fourth inch.
Pitch and tension of the chain are important considerations when choosing a chain. The minimum pitch is determined by the thickness of the tooth on the wheel and the maximum pitch is determined by the rigidity of the link plates. However, this maximum pitch may be exceeded with bushes between the link plates or clearance with the wheel teeth. A good quality chain will have bearing surfaces lubricated to prevent excessive wear and rust. Medium-viscosity mineral oil is suitable for normal operating conditions. SAE 20W-50 is a good choice for this application. Self-lubricating chains are available from many chain manufacturers.
The chain is usually lubricated by dripping oil between the links. This type of lubrication requires regular inspection of the conveyor chain. The amount of oil should be enough to prevent reddish brown discoloration on the chain joints. A lubricating oil should be applied on a daily basis, according to the manufacturer's specifications. In order to ensure a longer life for your drive chain, make sure that you lubricate it on a regular basis.



editor by CX 2023-06-02
Product Description
Black Paint Studless and Stud Anchor Chain
1.Description
Our Stainless steel studless link anchor chain use flash welding tech., the first supplier in China use flash welding for stainless steel anchor chain, have very high working load limited, are a heavy duty piece of marine hardware. Promise high load. Real AISI 304 or 316 material.
Grade: I & II & III;
Diameter from 14mm to 162mm;
Approval: CCS, ABS, GL, LR, NK, RINA, RS, DNV…
2. Main Parameters 
| | |
| --- | --- |
| Grade | I & II & III |
| Diameter  | from 14mm to 162mm |
| Approval | CCS, ABS, GL, LR, NK, RINA, DNV |
Company Information
| | |
| --- | --- |
| Material: | Iron and Steel |
| Certification: | RS, LR, KR, GL, Dnv, Nk, CCS |
| Weight (Kg): | <1000kg |
| Model: | I, II, III |
| Type: | Military Vessels |
| Grade: | II,III |
Customization:

Available

|

Customized Request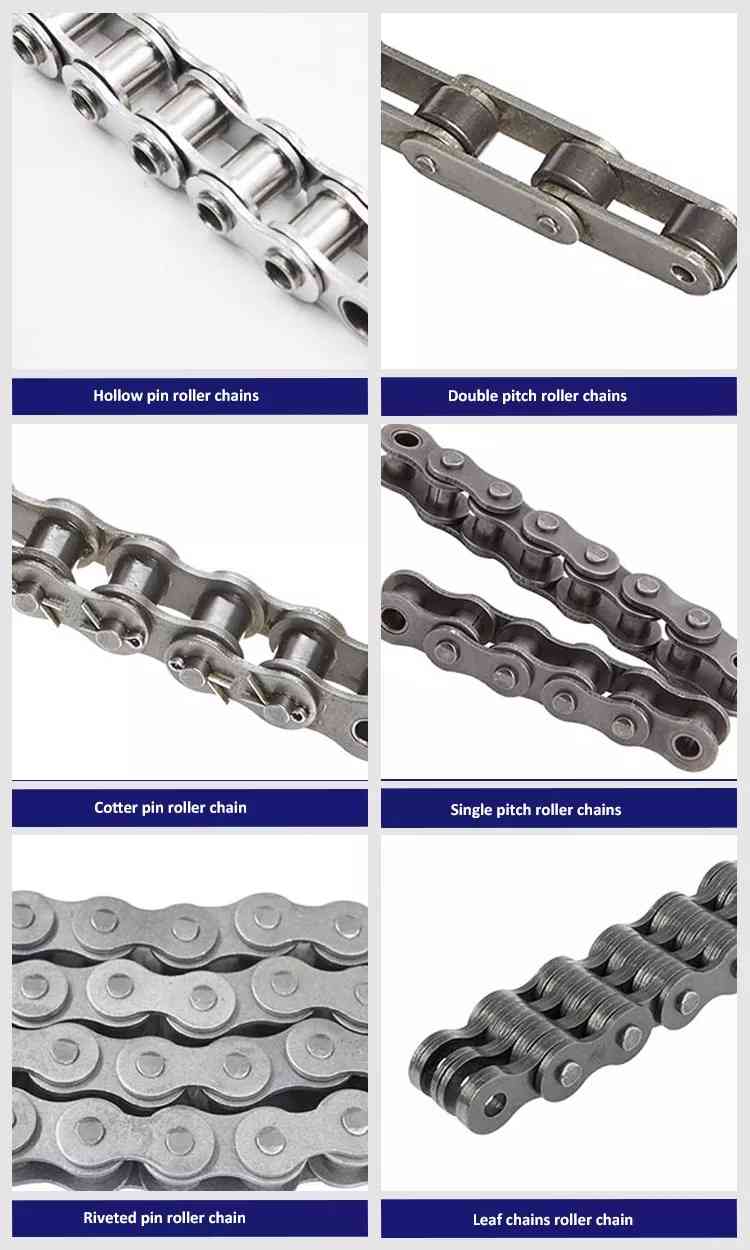 drive chain type
Drive chains are used in a variety of industrial applications. Unlike roller chains, which are more efficient in terms of weight and size, drive chains slide on steel guides. Drive chains are often used for dirty work. Here's what you need to know about the various types of drive chains. In this article, we'll look at pin chains, engineered steel chains, bushing roller chains, and timing chains. These types are the most common and the most commonly used.
time chain
There are several factors to consider when deciding which drive chain to buy. What matters is how long the chain will last, as the timing chain will stretch over time. However, they are pre-stretched during manufacture to reduce the risk of stretching. Timing chains can also be noisy compared to toothed belt drives, but rails and chain tensioners can alleviate this problem. Timing chains also wear slower than belts, reducing repair costs.
Timing chains require little maintenance compared to belt drives. When well lubricated, timing chains require little maintenance. The only maintenance really required is checking the engine oil level and following the manufacturer's recommended service intervals. Timing chains of drive chains are also safer than belt drives and can be dangerous if the toothed belt tears. Also, the timing chain only needs minor repairs and replacements. Garages can purchase complete timing chain kits that contain all the parts needed for repairs.
Drive chains can be equipped with roller chains or timing chains, depending on the load on the engine. The style of the timing chain depends on the type of motor used. However, the roller chain is the most common choice due to its high strength and NVH properties. The roller chain has two tabs pressed into the eyes, and two rollers above them. These components work together to improve engine performance.
Many modern vehicles use timing chains. Timing gears synchronize the camshaft and crankshaft so that the valves open and close at the appropriate times. This is critical to the running quality, power output, and fuel consumption of the engine. The timing chain also reduces the amount of pollution emitted by the vehicle. Over the past two decades, many OEMs have turned to time chains for OHC/DOHC engines.
pin chain
Steel pivot chains feature open barrels to reduce blocking and material buildup. These chains are designed for power transmission and transportation applications, often used in agricultural applications. They can be custom welded using specialized accessories. These chains can be used in agricultural, industrial and municipal applications. Here's a closer look at each. Read on to learn about the benefits of steel pivot chains.
The Long Pitch Class 700 Pivot Chain is a versatile chain for conveying and lifting products. Its T-head pins fit snugly so dust doesn't get into the pin holes. It is also constructed with a closed bearing structure to prevent elongation due to wear. Steel pivot chains are designed for high fatigue applications and are versatile.
Engineering Steel Chain
Engineered steel drive chain provides maximum power transfer while minimizing weight. Engineering chains are often used for tough oil drilling operations. Designed for durability and tight tolerances, these chains can be used in a variety of industrial equipment. Whether you need to lift heavy objects or store a lot of items, engineered steel chains will do the job. Read on to learn more about the benefits of engineering chains.
Engineered steel chains consist of links or pin joints with large gaps between the components. The material of these chains is designed to handle abrasives. While many of these chains are used as conveyors, some are designed for drives. You can find these chains on conveyors, forklifts, bucket elevators, oil rigs and more. To get the most out of them, they should be able to withstand the power produced by the prime mover.
The chain can withstand high tensile stresses and is ductile enough to withstand fatigue. The center-to-center distance between the chain and sprockets is between 30% and 50% of the pitch. On smaller sprockets, the arc of contact between the teeth and chain must be at least 120 degrees. The resistance of the chain drive depends on the use environment, including vibration, noise, fatigue strength and other factors.
There are many types of engineering steel drive chains, each with a different function. The most commonly used type is the elevator. Its lift mechanism raises and lowers the carriage. Most cranes are attached to the load with hooks. Another type of chain is the oval link. Its links are welded and the sprocket has receivers for each link. It is used in low speed applications for elevators, chain hoists and anchors in offshore operations.
Bushing Roller Chain
Typically, a bushing roller chain as a drive chain consists of two link assemblies. The inner link consists of two plates held together by two sleeves, while the outer link consists of two plates connected by pins that pass through the inner link. However, there are some differences between bushing roller chains. The main difference is the type of link and the amount of lubrication required. If you want to learn more about bushing roller chains, keep reading.
While roller chains are generally stronger and more durable than bushing chains, they are not immune to wear. During the driving cycle, they lengthen and undergo a process called articulation. The rate at which they elongate depends on the lubrication and load applied to them. The frequency of pin and bushing articulation is also critical. Like other wear parts, the manufacture of critical wear parts requires close attention to detail to ensure optimum performance. Correct raw material selection, part fabrication, and assembly are key factors in achieving optimum performance. Improperly prepared parts can affect wear life and performance.
Consider your application and load distribution when selecting a bushing roller chain as your drive chain. The length of the chain must be between 30 and 50 times its pitch. The arc of contact between the small sprocket teeth must be at least 120 degrees. The resistance of the drive chain depends on the usage environment, which will determine its fatigue strength and vibration level. It's a good idea to check the chain length before deciding to replace it.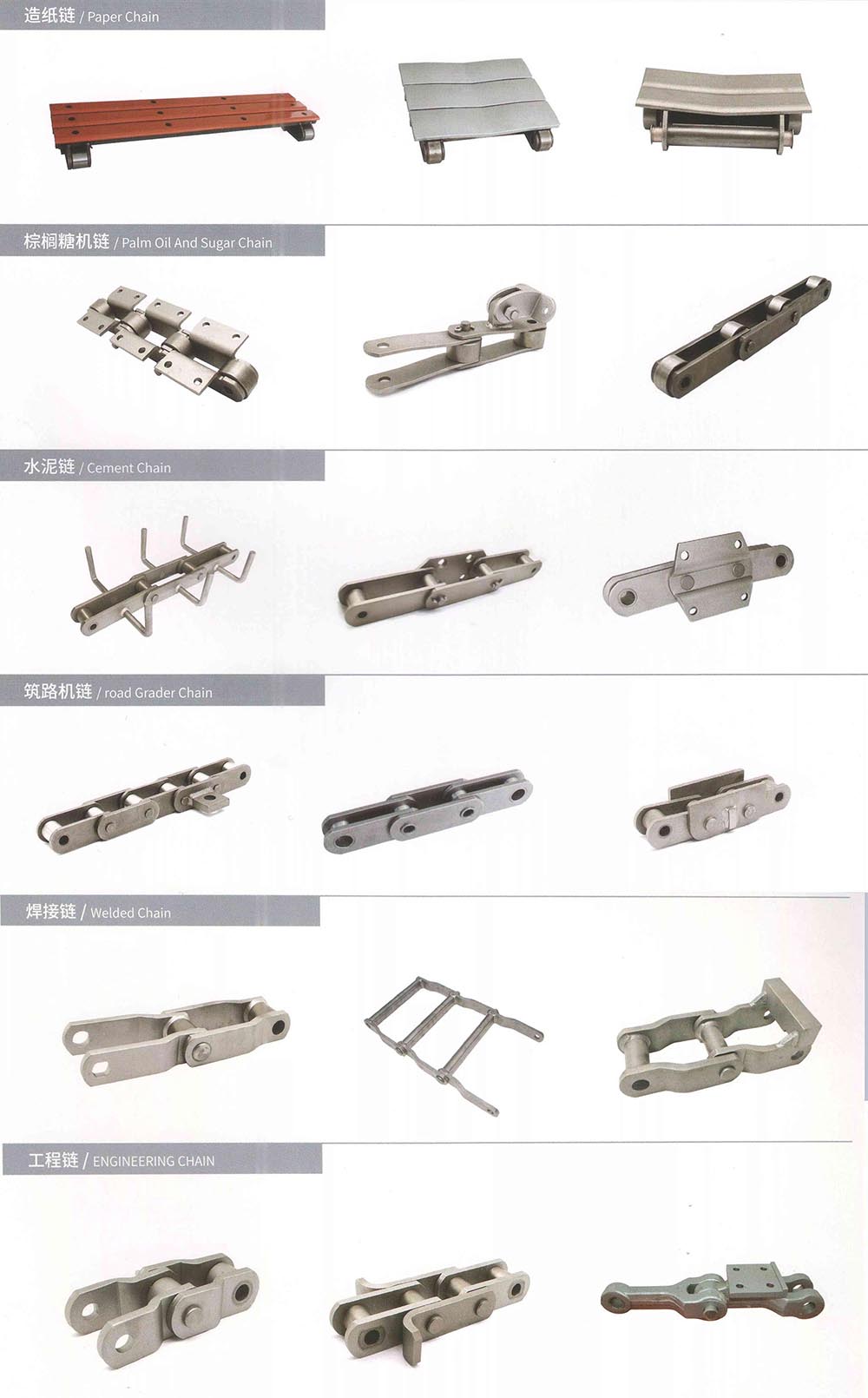 flat top chain
The TSplus flat top drive chain is the most flexible conveying medium on the market today. They can be connected end-to-end to create extended conveyor lines. The side bend design allows it to be used with a variety of conveyor types including inline, snake, and carousel conveyors. These chains are available in a variety of sizes, ranging in width from 3 feet to 20 feet.
A variety of materials are available for flat-top chains, including steel and plastic. Steel chains are ideal for applications requiring wear resistance. They are sturdy and well made. Plastic chains are particularly durable, but not suitable for harsh environments. Stainless steel flat top chains are suitable for a variety of applications, and some manufacturers make them from stainless steel or even aluminum. If your application requires a durable flat top chain, choose a chain made from iwis hardened stainless steel.
Another type of flat-top drive chain is the side bend chain. Suitable for flexible machinery requiring efficient conveying. It is equipped with a single hinge pin or double hinge pin. Either option will do, but each hinge pin has its advantages. Single hinge pin chains are suitable for smaller light-duty conveyors, while double hinge pins are more suitable for medium and heavy-duty applications.
CZPT is a modular flat top chain conveyor system. Its standardized components and modules can be easily integrated into any production process. And because it's a single track, you can lengthen or shorten it as needed. Its versatile design makes it compatible with other conveyor systems such as belts and sprockets. This monorail modular design allows system lengths up to 40 meters and is compatible with other conveyor systems.



editor by CX 2023-04-20
Merchandise Description
Maritime Anchor Chain link chain Stainless Steel Chain grade80 studless stainless metal Chain
Solution Description
Nominal Chain Diameter

(mm)

 

Proof Load

(kN)

Breaking Load

(kN)

Grade 1

Quality 2

Quality three

Quality one

Quality two

Grade 3

six~fifty

6.sixty two~460

nine.3~648.eight

/

13.32~926.09

18.6~1239.6

/

sixteen~50

/

ninety two.forty two~902.five

/

184.eighty three~1805

Value

>> Get latest price tag list

 Professional team

All products are customizable.(Colour/Substance.and so forth)
Before employing of hyperlink chain, we suggest you to…
one. Pay out consideration to whether or not the chain mark is very clear, if it falls off, it should be replenished in time
two. Verify the chain ring and shackle for cracks, deformation and unfastened composition and dress in
three. Check whether the swivel is versatile, and well timed lubricate the windlass
four. Work in accordance to the functioning methods
five. Check out the brakes routinely
six. Refuel and check just before every use
7. Spend interest to the use of the gear enamel of the sprocket and the thread of the worm.
 
Manifish Maritime Hardware                                                                                             
*Sets simply in a variety of bottoms including mud, sand, rock, and far more *Modeled right after the original Delta Anchor *Created of strong mirror polished 316 Stainless Metal Self launching and fits a large variety of bow rollers *Lifetime guarantee in opposition to breakage316 Stainless Steel Pad Eye Fender Hook Open up Kind Polish Maritime Yacht Hardware Outfits Fender Hooks
maritime outletboat add-ons leds lights maritime hardwaresail rail hook Oblo
generate details                                                                                    
| | |
| --- | --- |
| Item title | stainless steel boat equipment |
| Certification | CE/SGS/ISO9001 |
| Fat(kg) | <1000kg |
| Shade | Silver |
| Place of Origin | ZheJiang China |
| MOQ | 1pcs |
| | |
| --- | --- |
| After-sales Service: | One Year |
| Warranty: | 12 Months |
| Material: | Stainless Steel |
| Certification: | CS |
| Design: | Anchor Chain |
| Weight (Kg): | <1000kg |
###
Samples:

US$ 100.00/Meter

1 Meter(Min.Order)
###
Nominal Chain Diameter

(mm)

Proof Load

(kN)

Breaking Load

(kN)

Grade 1

Grade 2

Grade 3

Grade 1

Grade 2

Grade 3

6~50

6.62~460

9.3~648.8

/

13.32~926.09

18.6~1239.6

/

16~50

/

92.42~902.5

/

184.83~1805

Price

>> Get newest price list

Professional team

All products are customizable.(Color/Material.etc)
###
| | |
| --- | --- |
| Product name | stainless steel boat accessories |
| Certification | CE/SGS/ISO9001 |
| Weight(kg) | <1000kg |
| Color | Silver |
| Place of Origin | ShangHai China |
| MOQ | 1pcs |
| | |
| --- | --- |
| After-sales Service: | One Year |
| Warranty: | 12 Months |
| Material: | Stainless Steel |
| Certification: | CS |
| Design: | Anchor Chain |
| Weight (Kg): | <1000kg |
###
Samples:

US$ 100.00/Meter

1 Meter(Min.Order)
###
Nominal Chain Diameter

(mm)

Proof Load

(kN)

Breaking Load

(kN)

Grade 1

Grade 2

Grade 3

Grade 1

Grade 2

Grade 3

6~50

6.62~460

9.3~648.8

/

13.32~926.09

18.6~1239.6

/

16~50

/

92.42~902.5

/

184.83~1805

Price

>> Get newest price list

Professional team

All products are customizable.(Color/Material.etc)
###
| | |
| --- | --- |
| Product name | stainless steel boat accessories |
| Certification | CE/SGS/ISO9001 |
| Weight(kg) | <1000kg |
| Color | Silver |
| Place of Origin | ShangHai China |
| MOQ | 1pcs |
What to look for in a roller chain
There are many different factors to consider when purchasing a roller chain. One of the most important factors is tensile strength, which represents the force required to break the chain. Roller chains are available in three different tensile strengths: minimum, average and ultimate. Each strength reflects a different limit to the load the chain can handle. However, these limits are not always equal and you should be aware of the differences between roller chains.
Canonical chain
Most roller chains have standard sizes printed on the side panels. This is usually "40" or "C2080H", but can also be the letter "B". If the chain is old, it will need to be cleaned to see its size. You can find the size on the standard roller chain size chart, but not everyone is marked. To determine the size, measure the diameter and pitch of the chain, then compare the results to the chart to see what size you need.
Heavy-duty roller chains are available with heat-treated pins, side plates, and rollers. In addition to being heat treated, they are also factory pre-stretched, which reduces wear on these parts. If properly maintained, they can last for years, reducing the risk of failure or corrosion. Depending on the application, standard roller chains are available in different sizes. It can be purchased separately. There are several options to choose from, depending on the size and strength of the application.
PEER roller chains contain solid rollers to reduce shock loads on the sprocket teeth. Heat treating and preloading all components of the PEER chain helps minimize initial elongation. Hot-dip lubrication ensures complete lubrication of all chain components, extending their life and reducing maintenance costs. For heavy-duty applications, ASME/ANSI-B29.1 chain is a good choice.
Standard roller chains are made of steel or alloy steel. However, it can be made of other materials such as stainless steel. In addition to steel, stainless steel is often used in food processing machinery where chain lubrication is an issue. Brass and nylon are also sometimes used. However, they are not that popular. Therefore, you should always check with your supplier before purchasing. By comparing the tensile strength of two different chains and making an informed decision, you can get the best price and service.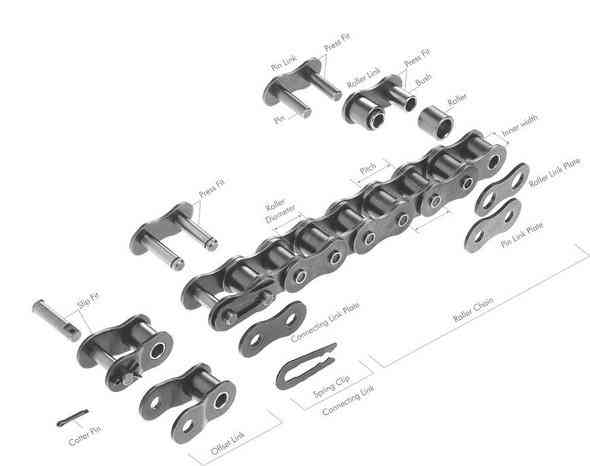 Chain without bushing
Bushless roller chains have advantages over conventional roller chains. Unlike conventional chains, bushless chains have extensive lateral flexibility, which increases the chain's lubrication flow. The inner plates of bushless chains have protruding shoulders so the oil can flow through them more easily and efficiently. This is an important characteristic of a smooth-running chain. Additionally, bushless chains may have improved shifting performance.
The strength of a bushingless roller chain is measured in terms of tensile strength and fatigue strength. The former measures the load a chain can withstand before breaking. Fatigue strength is equally important, and factors that affect fatigue strength include the steel used to make the chain components, the pitch hole fabrication, the type of shot peening on the chain, and the design and thickness of the chain. For example, if the chain is too thin, it may not be enough for heavy-duty applications.
Like traditional roller chains, bushingless roller chains have two different types of links. The inner link has two inner plates connected by pins, while the outer chain has two outer plates held together by bushings. A bushingless roller chain is similar to a traditional chain, except it eliminates a step in the assembly process by stamping the tube into the inner plate. So if you want a smoother ride, a bushingless roller chain is a better choice.
There are two different sizes of bushingless roller chains. One size is designed for use with standard single-strand chains, while the other size is designed for use with double-strand or triple-strand chains. Bushless chains are generally shorter than conventional chains, so they can fit in tighter spaces. Bushless chains are made of the highest quality materials. These chain attachments are case hardened for optimum strength and durability.
Mute chain
The silent roller chain has a smooth, low-noise drive. They are made of stacked rows of flat chainplates with a gear-like profile that meshes with the sprocket teeth. Each chainplate is attached to a corresponding sprocket, which also allows the chain to bend. While these basic components are the same for every silent roller chain, there are many variations that allow them to be used in a variety of applications.
The most popular high-speed transmission, silent chains feature gear-like sprockets. They can be made from single or multiple strands of material. Single-strand chains are less expensive than multi-strand chains, but they tend to wear out faster if not lubricated. Single-strand roller chains can be used for years without lubrication, but for your application, wide silent chains are still worth considering.
The design and construction of silent chains make them ideal for conveying a wide variety of products. They have flat, heat-resistant surfaces. They are also durable and non-slip. They are available in a variety of pitch sizes, widths, and mounting styles. Whether you need chains for general purpose conveyors or glass bottle transport applications, we have you covered. Ask about the benefits of silent roller chain conveyors.
Inverted tooth chains are another option for quieter chains. These chains are designed to reduce noise from engine-related friction. Silent chains are more common, and manufacturers have fallen in love with them. A silent chain consists of several links connected to the sprocket teeth. Teeth rotate to reduce noise, vibration, and chord action. These are the main reasons why silent chains are so popular.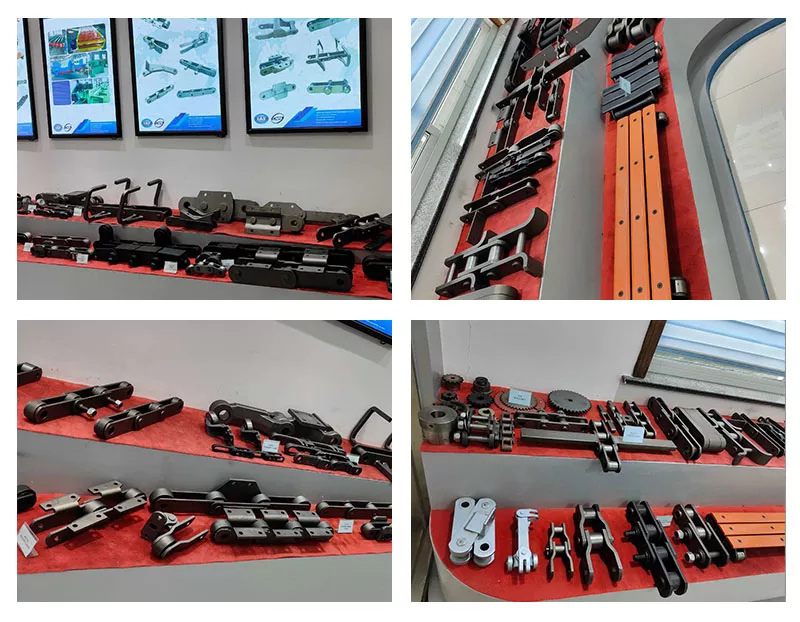 ANSI chain pitch
To measure your bike's chain pitch, you can use a caliper. This measurement is taken from the center of the rolling pin to the center of the next rolling pin. Chains come in many sizes, but ANSI is the most common chain standard in the United States. A caliper is handy if you're not sure which size to buy, as it allows you to check for worn sprockets.
Chains that meet ANSI standards will be characterized by a certain pitch. This measurement is based on the width and spacing of the roll. The spacing is usually greater than the width. The standard number will be the right number for the width of the chain or the left number for the rollers. The number on the left indicates whether the chain is lightweight or heavyweight. Heavyweight chains are designated by the suffix "H".
Common chain sizes are based on ANSI chain pitch. Pitch is the minimum distance between bushing and sprocket. The smaller the chain pitch, the greater the total distance between the two points. This means the chain will last longer. However, if you are buying a chain for a specific application, you should check the pitch carefully as it can affect the performance of the chain.
Roller chain wear measurement
The purpose of roller chain wear measurement is to prevent breakage by monitoring the strain on the chain. There are several ways to measure roller chain wear. The first is to remove the chain from its working position and measure the distance from the sprocket to its measuring end. Another way is to measure the pitch of the chain or the distance between two pins. This method is superior to other methods because it is convenient and accurate.
When measuring the wear of a roller chain, it is important to note that the elements of the chain will gradually deform. About 3.75% of the total wear will be on the pins and the rest will be on the internal links. These wear measurements will vary based on the nominal pitch of the chain and the amount of friction the chain is experiencing. Proper lubrication between pins and bushings, load and frequency of articulation all affect wear rates.
It is important to measure the amount of wear on the roller chain to avoid excessive machine failures. The longer the chain runs, the more wear it will wear. Although the length of the chain should be less than the center distance, the excessive load will cause premature wear. Therefore, lubrication is essential. Additionally, the sag of the chain should not exceed 2% to 4% of its center-to-center distance. Finally, check for unusual noise or visible defects. A common cause of excessive roller chain wear is the size of the load. Every chain manufacturer sets a maximum workload for its product.
There are several ways to measure roller chain wear. If using a high-speed drive, it should have at least 11 teeth, and a medium-speed drive should have at least 25 teeth. Also, be sure to check the length of the chain, even if you should. The same goes for the pin diameter, which should be the same or different pitch as the roller chain.



editor by czh 2023-01-28